It's important to understand the materials that make up your commercial site furnishings. Common materials like steel, wood and recycled plastic each have distinct characteristics.
These affect how site furnishings look, their ability to hold up to the environment and the amount of effort that will be needed for maintenance.
By understanding the properties of the different materials, you can be confident your site furnishing selection will be used and admired for years.
Evaluating Site Furnishing Materials
As they say, "beauty lies in the eye of the beholder". If wood grains look better than stainless steel for a bench in a park, that is entirely up to you.
However, since most site furnishings are destined to be installed outdoors, it's critical they can stand up to environmental impacts. Such as rot, mold, insects and corrosion in salty areas.
Because of this, any material used in site furnishings must be durable and resistant to natural forces. It's also worth considering the durability to regular usage, as well as vandalism.
Upkeep is another factor. The effort and frequency needed to maintain the materials of the site furniture should play a part in your decision.
Design and style will guide your outdoor site furnishings selection. But make sure the materials will uphold the aesthetics for long-term enjoyment.
Wood Site Furnishing Materials
Wood has a natural beauty that has long been desired as a material of site furnishings.
Certain woods have inherent characteristics that make them well-suited for use in outdoor commercial furniture. Others are processed to give them these properties.
Ipe
Pronounced "ee-pay", Ipe is a wood from South America that is a perfect material choice for outdoor site furnishings. It naturally resists harsh weather, heavy use, rot, abrasion and insects.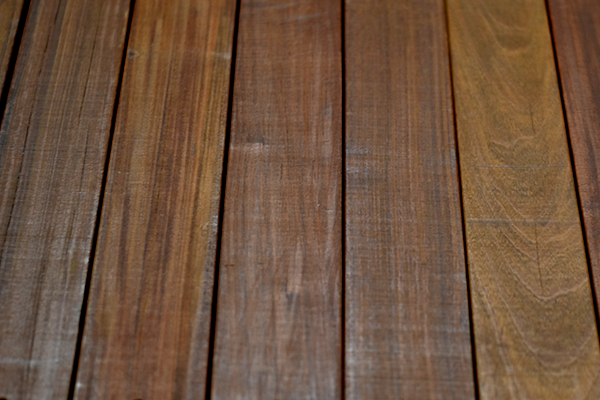 Aesthetics
Ipe varies in color from reddish brown to an olive-brown. Over time this wood will weather to a silver grey.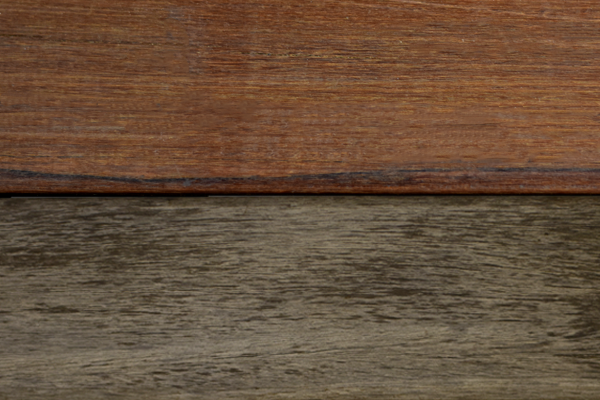 The top board shows Ipe with oil. The board on the bottom is weathered Ipe.
The wood will display fine to medium grains and texture. The grains vary from straight to irregular, even interlocking.
The Ipe wood used in Thomas Steele commercial site furnishings comes in a natural finish. A timber oil is applied to the wood before it leaves our facility.
Performance and Durability
Three times harder than oak, Ipe is incredibly dense and durable. This wood is rated as very resistant to rot and has excellent insect resistance.
Like any wood, small surface cracks and some checking may result from exposure to temperatures and the elements.

Example of cracks and checking that may occur in Ipe boards.
The surface cracks have no affect on the structural integrity of the wood. Checking will be minimal. A primary reason this material is used for site furnishings.
Download Ipe Information Document (.pdf)
Maintenance
If letting the wood fade to its natural silver, the wood will only need to be sealed upon installation. To keep the original color, sealer will need to be applied annually, at a minimum.
For cleaning, use soapy water and a stiff brush to loosen impediments. Then rinse clean.
Heavily weathered Ipe can be restored through sanding and an application of oil.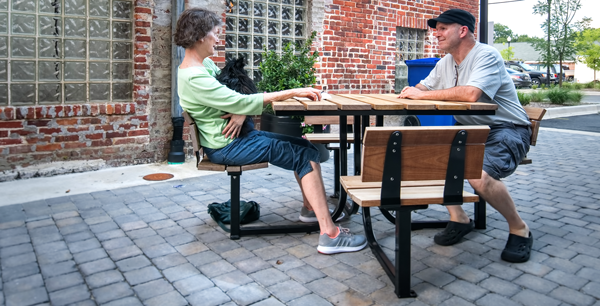 The Lofty courtyard table from Thomas Steele with an Ipe tabletop, chair seats and backs.
Accoya
Accoya wood is sourced from sustainable forests and manufactured using an acetylation modification process. In its final form, the properties exceed those of the best tropical hardwoods and can handle the most demanding environments.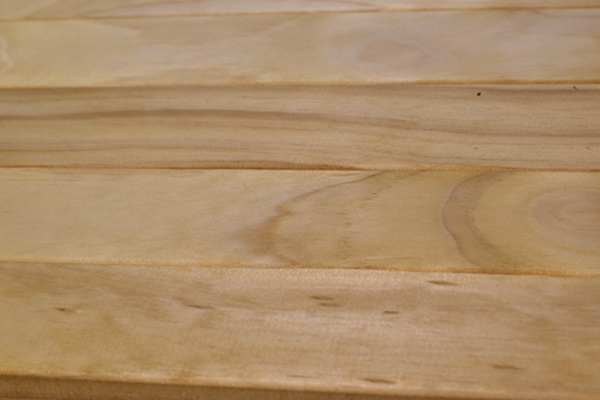 Aesthetics
Made of all-natural solid wood, Accoya offers the visual appeal of the original wood species. It is available in a range of qualities.
Because of its resistance to rotting, a popular choice is to leave the wood uncoated.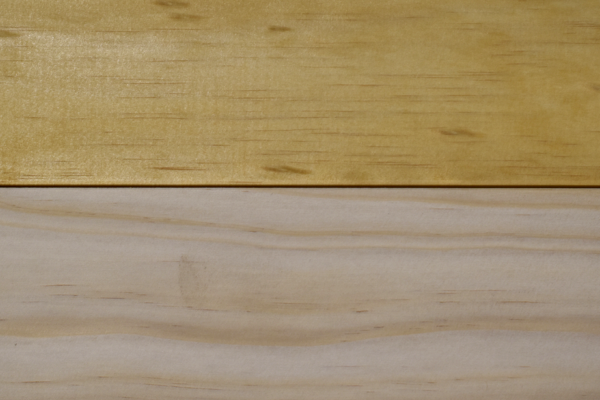 The top board is Accoya with a stain finish. The bottom board is Accoya with a natural finish.
The wood will then weather naturally to a silver-grey color.

Applying an oil finish can be done for aesthetic purposes. It is not required to protect the wood.
Performance and Durability
During the acetylation process the properties of the wood are modified. Primarily, the wood loses its ability to absorb water by as much as 80%. The benefit is a stronger wood that requires it to be coated less frequently.
It also becomes almost completely rot and insect resistant.
Minimal checking and small cracks will appear in Accoya wood. These have no bearing on the structural integrity of the material.
Maintenance
Annual cleanings are recommended. This can be done with a stiff brush and clear water.
Recycled Plastic Site Furnishing Materials
Recycled plastic is a high-density polyethylene material (HDPE) made from post-consumer recycled plastic containers. The material is made to resemble wood but provides longer-lasting durability.
This material does not include any other products such as wood pulp, wood fiber or fiberglass.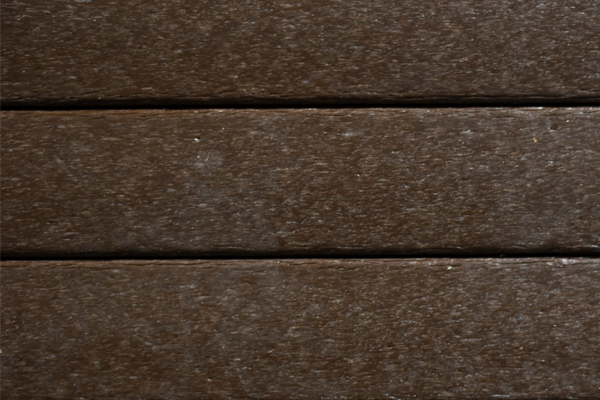 Brown recycled plastic boards. Recycled plastic is also available in brown, cedar, grey and weathered redwood colors.
Aesthetics
Thomas Steele offers standard recycled plastic and embossed recycled plastic boards. The embossed recycled plastic is a premium styling with a more defined wood grain pattern.
The standard recycled plastic is available in brown, cedar, grey and weathered redwood colors.

Embossed Recycled Plastic is available in Birchwood, Driftwood, Mahogany and Walnut.

Performance and Durability
This material is graffiti- and UV-resistant and ideal for outdoor use as the material will not crack, splinter or rust.
Recycled plastic does not absorb moisture, so it is extremely resistant to mildew, rot, insects, salt and acids.
It will not leech or bleed toxins or carcinogens that would possibly end up in the soil or marine ecology.
The structural strength of recycled plastic is less than wood. Boards can sag under their own weight.
Because of this limitation Thomas Steele only uses this material in products with adequate framing and support. Certain designs may not be available in recycled plastic.
Download Recycled Plastics Information Document (.pdf)
Maintenance
This material requires minimal maintenance as there is no need for sealants. If cleaning is needed, it can be done with clear water or mild soap.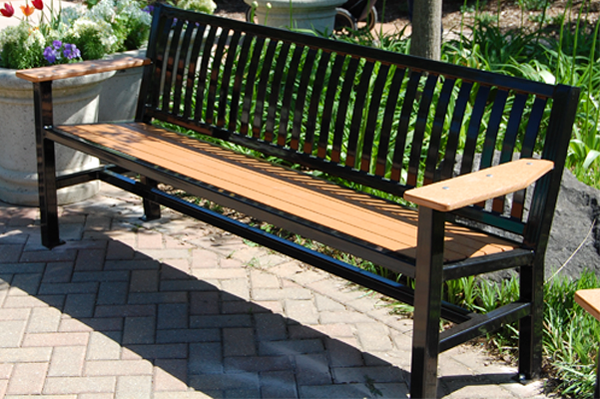 The Livingston bench from Thomas Steele features recycled plastic material for the arms and seat straps.
Explore More: Recycled Plastic Benches
Powder Coated e-Steele
Almost every piece of steel used in Thomas Steele site furnishings goes through the e-Steele finishing process. This unique, two-step process produces a finish that gives site furnishing products ideal protection and performance abilities for installations in even the harshest environments.
Watch a video about how e-Steele provides advanced durability and aesthetics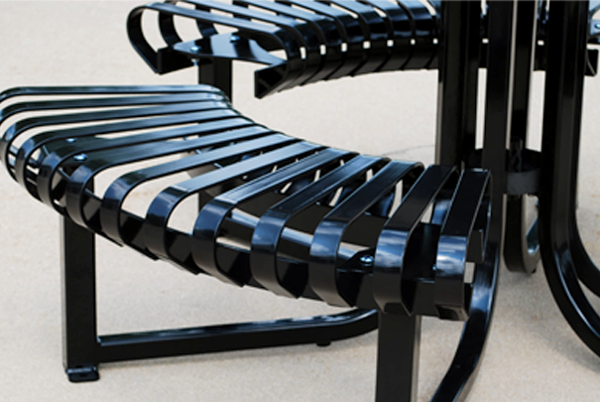 Aesthetics
e-Steele helps improve the visual appeal of site furnishings. It allows for a high-quality and uniform application of color to steel.
You can rely on the color to be evenly distributed without drips, runs or other common finishing blemishes.
Select from a standard offering of colors or pick any color you want. Custom coloring matching is also an option.
Performance and Durability
A major advantage of e-Steele is that it achieves 100% part coverage. Providing protection for even the smallest recesses, nooks and crannies, the steel is more resistant to chipping, scratching, rusting, and similar issues.
This is important because site furnishings that are not properly protected are the most susceptible to rust and corrosion.
Maintenance
Annual cleanings, with warm water and mild soap, will help the finish preserve its appearance and protective qualities.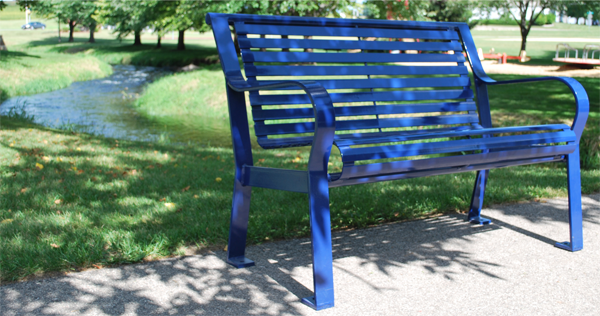 Stainless Steel
Stainless steel is an iron alloy with chromium content added. The addition of chromium forms chromium oxide and creates a protective surface.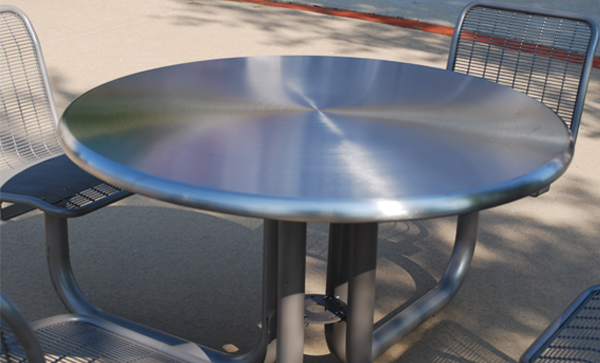 Aesthetics
Stainless steel has a familiar luster and is commonly viewed as a high-end finish.
Performance and Durability
Known for its ability to resist corrosion, stainless is often used in coastal regions where sand can blast against site furnishings and high levels of salt causes rusting.
Stainless also has greater resistance to cutting and scratching.
Maintenance
This style of steel needs no additional coatings to sustain its protective features. It will require little or no maintenance to keep its overall appearance.
What's your preferred material for site furnishings? Leave your answers in the comments below.