What are the ADA requirements for outdoor benches?
There are actually no compliance requirements, as it relates to outdoor benches.
Benches should comply with Section 903 of the 2010 ADA Standards for Accessible Design, only when they are to be placed in the following facilities, spaces, elements and rooms:
Saunas and Steam Rooms (Chapter 6: Plumbing Elements and Facilities)
Dressing, Fitting & Locker Rooms (Chapter 8: Special Rooms, Spaces and Elements)
The requirements of section 903 were developed to enable people in wheelchairs to transfer to benches in certain settings. Unless a bench is intended for installation in one of the above instances, it does not need to meet the requirements detailed in section 903.
Often, people in wheel chairs will pull up next to, or across from people sitting on benches in outdoor applications. This almost reduces or eliminates the needs to restrict bench dimensions.
The only outdoor bench-related ADA guidelines can be found in the United States Access Board Revised Draft Guidelines, Chapter R3: Technical Provisions below: R307.6.3.2 Benches.
"Where benches without tables are provided at a single location, at least 50 percent, but no fewer than one, shall have a seat height at the front edge of 43 cm (17 in) minimum and 49 cm (19 in) maximum above the ground or floor space."
All Thomas Steele benches meet these requirements.
The Access Board also included Advisory R307.6.3.2 stating "Benches will be most useful if they have full back support and armrests to assist in sitting and standing."
While Thomas Steele does offer flat and armless benches, it does have a broad portfolio that meet height guidelines, as well as back and armrest advisements.
Although there are minimal ADA requirements in regards to the designs of the actual bench, we encourage and challenge you to create outdoor seating options that offer accessible opportunities for all. Here are a couple of tips for how you can enable people in wheel chairs to take advantage of outdoor spaces in relation to other seating areas.
Provide adequate spacing on the ends and in front of a bench or other seating element in an outdoor setting
Provide a minimum of 30" x 48" of firm, stable and clear ground space for a single wheel chair to maneuver and occupy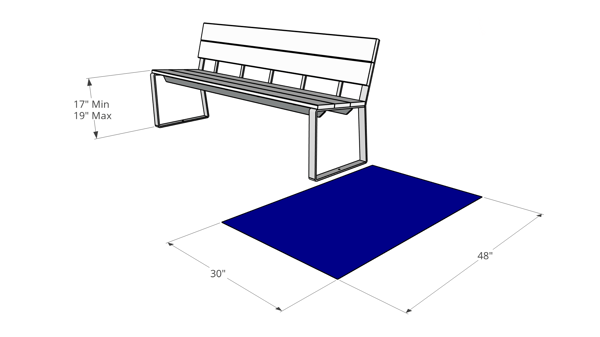 You can contact Thomas Steele for more information or if you have any additional questions. Our sales reps would be happy to help guide you to selecting the best site furnishings for your project.

Another resource with spacing & ADA guidelines can be found here: Access Board Outdoor Guides