ADA requirements have been put in place to ensure people in wheelchairs are able to effectively use the available tables.
In terms of the number of accessible tables, according ADA guidelines, if tables are provided and the tables are attached to the wall or fixed to the floor, then 5% of the tables or at least one (if less than 20 are provided) must be accessible.
This requirement applies to fixed tables in outdoor areas such as picnic areas, playgrounds or patios, as well as indoors.

Moveable chairs can be used at fixed tables, as the moveable chair can be removed when customers using a wheelchair use the table.

ADA Table Requirements

For a table to provide accessible seating, it must accommodate people using wheelchairs and adhere to the following parameters.

A. ADA Table Height

The surface height of an accessible table will have a height of no more than 34 inches and no less than 28 inches above the floor
B. ADA Table Clearance

At least 27 inches of knee clearance must be provided between the floor and the underside of the table
Knee clearance width must be 30" minimum
Knee clearance depth needs to be a minimum of 19"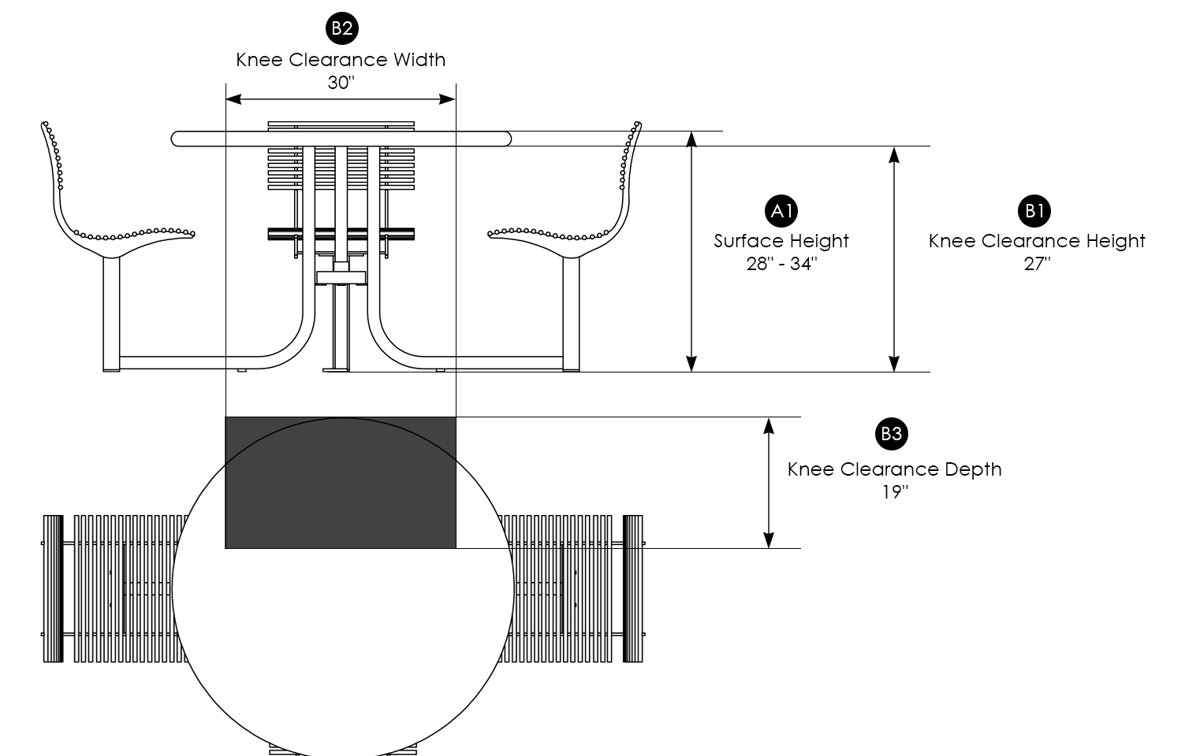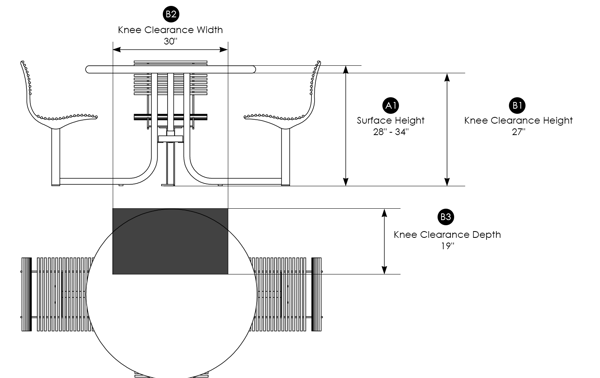 ADA table guidelines for height & clearance
ADA compliant tables often have two or four legs with 30" of clearance in between. Be vigilant when selecting accessible tables with a single leg mounted in the center. This type of table can obstruct knee and toe clearances because of the center post and/or base.
Courtyard-style tables where the seat posts are connected to the table base, even when having one of the seats excluded for accessibility can also fall short of ADA requirements.
This is the case when the table base extends on the floor and would not allow 19" of clear floor space under the table. The entire 19" below the table (by 30" wide) must be clear of any obstructions.
Thomas Steele has taken some of this guess work out and manufacturers all of its 3-seat, dining height courtyard tables to be ADA compliant.
Tables Meeting ADA Height & Knee Clearance Requirements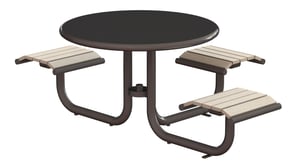 3-seat Courtyard Table | (Gramercy Shown)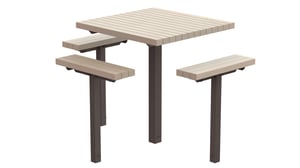 Walden Square Table | (2 or 3 Seats)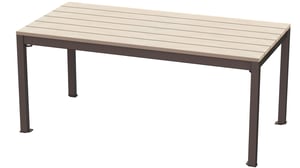 Monona Table
42" Top Cafe Table
Accessible Table Placement & Spacing
In regard to placement and spacing of tables, accessible seating should follow these guidelines:

C. Clear Floor Areas

There should be a clear floor area of 30 inches by 48 inches provided at each accessible seating location
The clear floor area extends 19 inches under the table to provide leg and knee clearance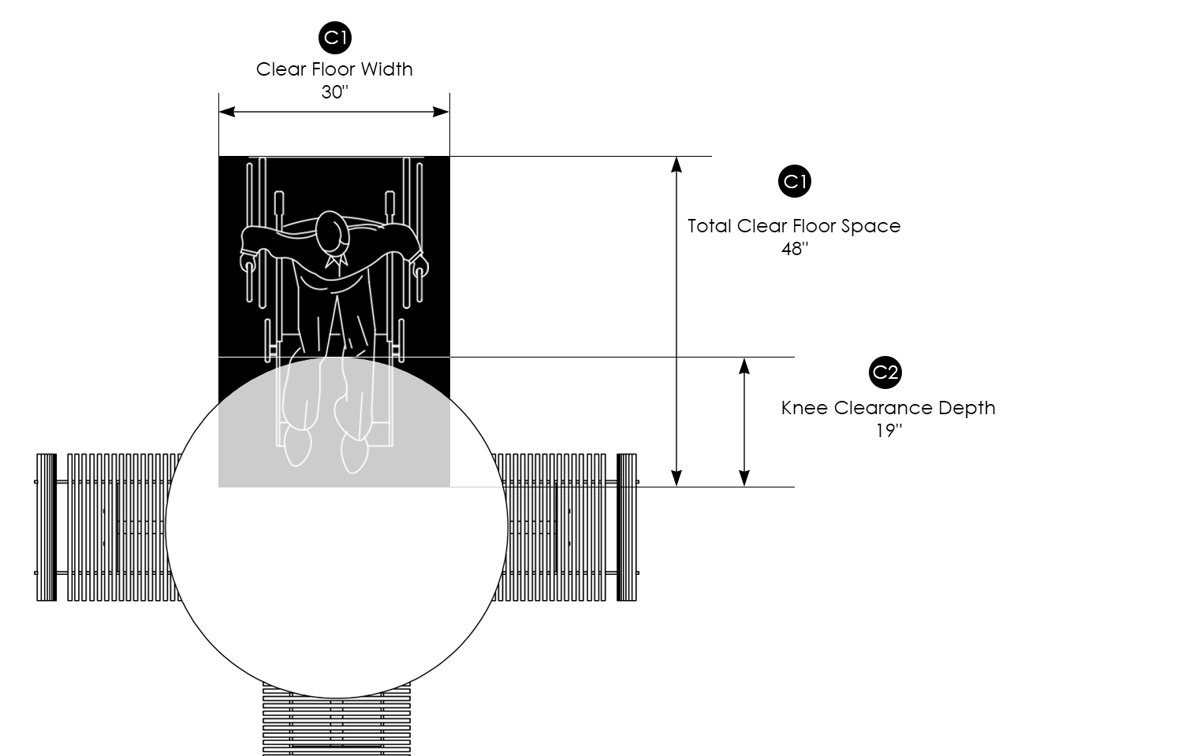 D. Aisles

An accessible route provides access to each accessible table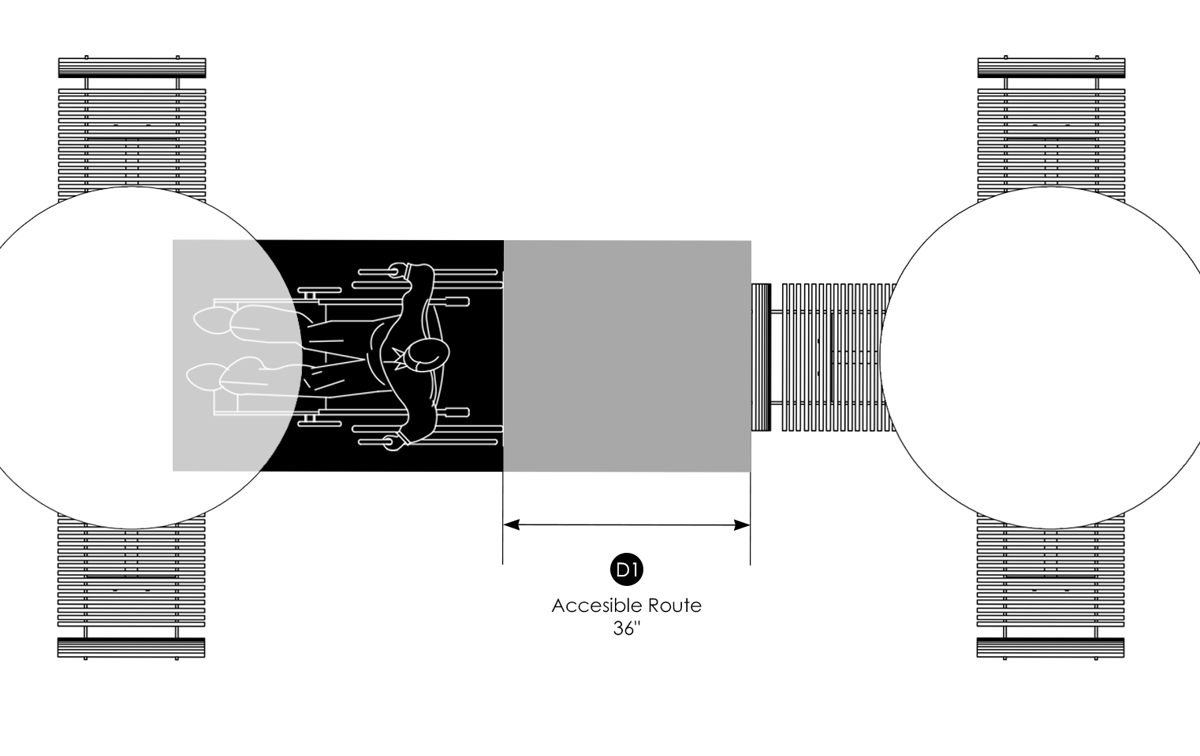 Spacing Tables
To create the required amount of accessible seating, The ADA Guide for Small Business states:
"If it is not readily achievable to provide the minimal number of accessible tables in all areas where fixed tables are provided, then the services must be provided in another accessible location, if doing so is readily achievable. However, these alternate location(s) must be available for all customers and not just people with disabilities. It is illegal to segregate people with disabilities in one area by designating it as an accessible area to be used only by people with disabilities."
ADA Picnic Table Regulations
ADA regulations for picnic tables have some slightly different guidelines.
The number of wheelchair spaces that must be provided is related to the surface perimeter. A clear space of 30" x 48" must be made available for each 24 linear feet of usable space around the perimeter of the tabletop.
Generally, one space is required for tables up to 9 feet in length.
Tables between 10 and 20 feet long usually require two wheelchair spaces and longer tables will require more spaces.
Additionally, the wheelchair space must be positioned for a forward approach
E.
ADA Picnic Table Dimensions
Knee clearance must be at least 30 inches wide and 19 inches deep at 27 inches above the ground surface
Tops of picnic table surface must be between 28 inches and 34 inches above the floor or ground surface

If selecting a picnic table constructed with A-frame type legs, there must be at least 27 inches of clearance under the table at 8 inches of depth, and then 9 inches of toe clearance from the ground to the cross support.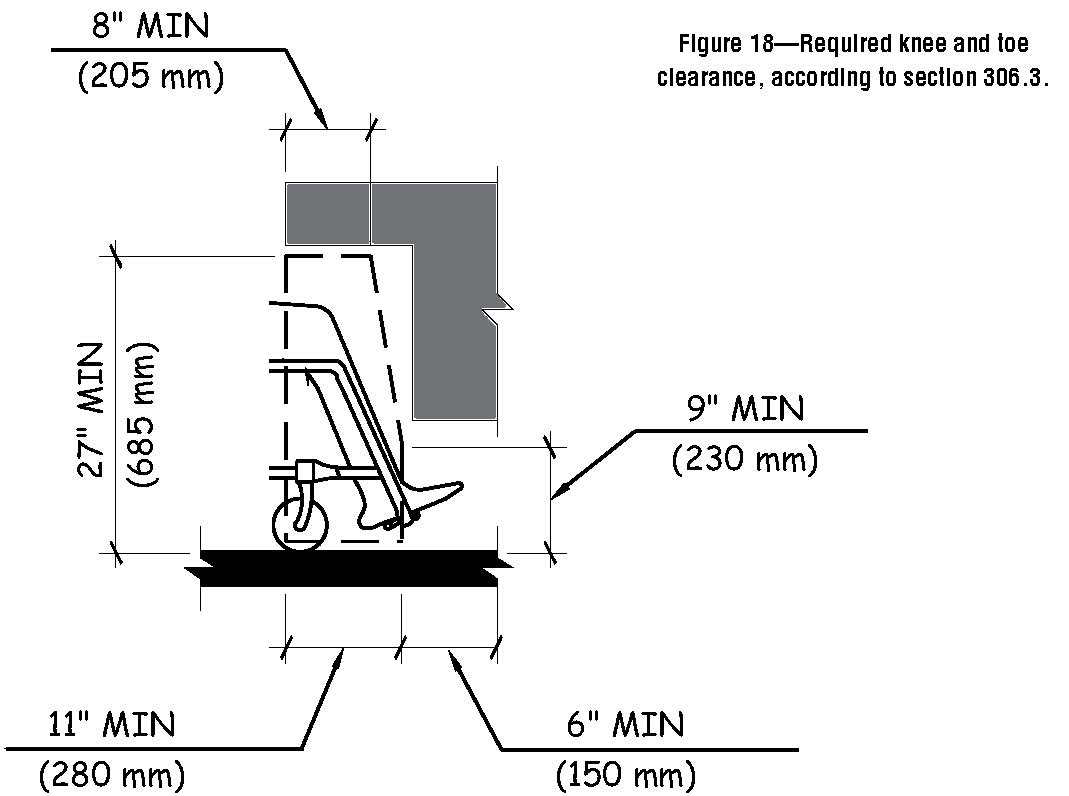 Image courtesy of access-board.gov

One significant difference with ADA Picnic tables is the space required around the clear ground space.

F. Clear Ground Space

A clear ground space of 36 inches wide must be provided on all usable sides of a table in addition to the clear ground space for the wheelchair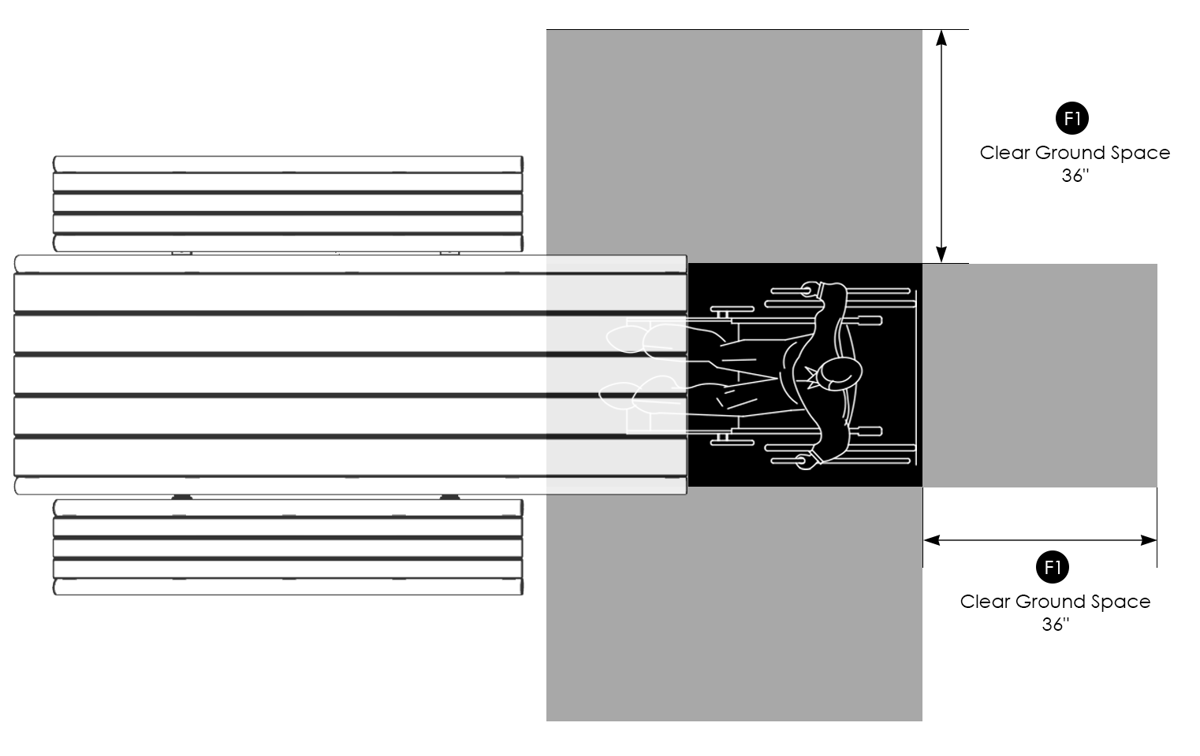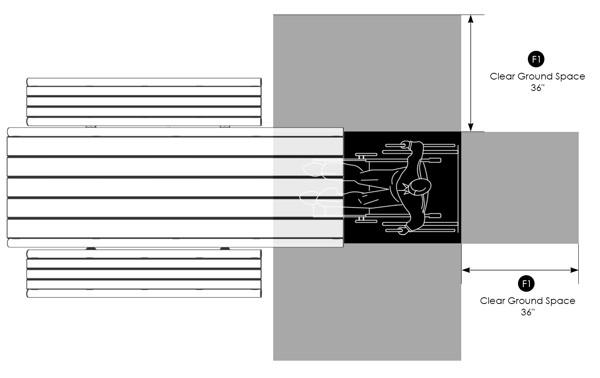 This is measured from the back edge of the benches and allows a person using a mobility device to maneuver around all usable sides of the table.
ADA Wheelchair Accessible Picnic Tables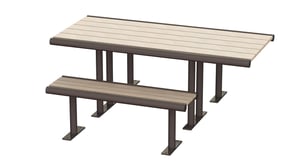 Fairway Picnic Table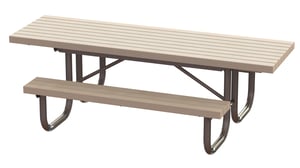 Walden Park Picnic Table
Need additional guidance in selecting the best ADA table for your project? Our sales reps are happy to help you find the right piece and can present a number of options to fit your needs. Contact us today and you can expect a response within one business day.