Whether you are looking to brighten up your patio or bring vibrant colors to your storefront, a beautiful flower arrangement can liven up any outdoor space. But a beautiful arrangement doesn't belong in just any planter, it deserves a planter that showcases the elegant floral design, while still looking magnificent on its own. And thankfully we here at Thomas Steele have that covered! We have a wide selection of elegant, handcrafted planters, which all look great and are built to last.
All of our planters are built with steel frames, but various designs incorporate different materials, including Ipe wood and recycled plastic. Besides from aesthetic differences, these materials also exhibit different qualities that may impact the plants and how the planters will interact with the environment. To help you choose your perfect planter, let's take a look at each material and see which suits you best.
Steel Planters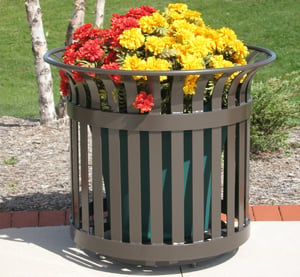 One of the best aspects of steel planters is that they are extremely durable. It is highly unlikely that a steel planter will sustain any dents or structural damage during its lifespan. Our steel planters are also constructed with our e-Steele™ process, which includes a five-year warranty on finishes. And with 22 finish colors to choose from, you will be able to show off your color of choice without the worry of having it fade away. In addition to this, many of our steel planters weigh up to 200 lbs, meaning that they will resist being knocked over by the wind or by vandals.
Due to their weight, however, steel planters can be difficult to move if an adjustment ever needs to be made in their placement. Also, the biggest downside to having a metal planter of any kind is that it can get hot in the sun. Heat could cause plants and roots inside a planter to overheat and become damaged. For that reason, metal planters are best if placed in shaded areas, or in climates that do not get especially hot.
Examples of our steel planters include: Ashton, Arcadia, Cunningham
A common concern about wooden planters is that they will rot away shortly after being installed. Ipe, however, is an extremely durable wood that naturally resists rot, making it an excellent choice for outdoor furnishings. Ipe is also resistant to the effects of bugs and harsh weather conditions, meaning that it won't break down over time. Another benefit of Ipe wood is that it provides a natural, elegant look that makes it a great option for more upscale locations and settings.
To maintain this look, however, a sealer should be applied to the Ipe on an annual basis, at minimum. While neglecting to do this will not effect the integrity of the wood, it will cause the color of it to change and become gray. If you prefer the look of weathered wood, then no maintenance will be needed. It can also be returned it to its original state by simply sanding the Ipe down and re-staining it. Some other aspects to consider before choosing this Ipe are that it is a more costly than our recycled plastic options and it is also not considered to come from a sustainable source.
Examples of our Ipe planters include: Livingston, Monona, Walden
Pros:
Resistant to rot
Resistant to outdoor conditions
Natural look
Cons:
Annual maintenance (for aesthetics)
More expensive than plastic
Non-sustainable resource
Recycled Plastic Planters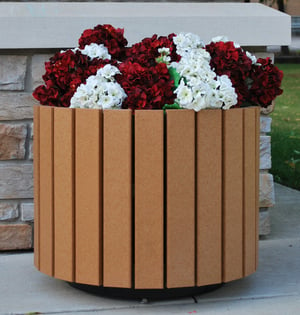 While some plastics may negatively affect plant health, at Thomas Steele, our plastic boards are made from recycled high-density polyethylene (HDPE), which is considered one of the safest plastics for gardening. HDPE is also resistant to both UV rays and graffiti, meaning that it will be able maintain its original look for years to come. The high quality plastic is also extremely resistant to mildew, cracks, or splinters. In addition, we offer a variety of boards that resemble different types of wood, meaning that you can customize your choice to fit your aesthetic.
As mentioned above, all of our planters are built on a metal frame, however, our recycled plastic is significantly lighter than both our steel and Ipe wood options. This can be a positive if you ever want to adjust the placement of your planter, however, it also makes it more likely to be blown over by the wind if not bolted to the ground or weighed down. One other important note regarding this choice is that the plastic boards we use are all made from recyclables, but the process used to turn them into boards makes it so that the plastic cannot be recycled again.
Examples of our recycled plastic planters include: Livingston, Monona, Walden
Pros:
Safe for plants
Durable
Looks like wood
Cons:
Can be knocked over (if not bolted)
Cannot be recycled if discarded
Regardless of which planter you ultimately choose, you can rest assured knowing that all of our planters look great, are built to last, and will brilliantly showcase your plants. Our team is always here to answer any questions you may have regarding our planters, and will be happy to assist you in any way they can. If you are looking to furnish an entire install or trying to find a planter that matches any of our other furnishing products, you should explore our different Series!