Linsey Giese, Executive Director of River Arts, Inc. and Administrator of Artwork for the Prairie Du Sac | Sauk City Unit of The Great Sauk State Trail plan discusses the use of custom site furnishings for artwork along the trail.

Location: Prairie Du Sac | Sauk City, Wisconsin
Project: The Great Sauk State Trail
Administrators of Artwork: Lindsey Giese, Executive Director, River Arts Inc.
Site Furnishings Installed: Custom Benches | Mile Markers

As part of the Prairie Du Sac | Sauk City Unit of The Great Sauk State Trail plan – a rails-to-trails cooperative plan that provides the framework for creating a recreational trail that connects Devil's Lake State Park to the Sauk Prairie villages of Prairie du Sac and Sauk City, Linsey Giese, Executive Director of River Arts, Inc. was named Administrators of Artwork along the trail.
Acting as a clearinghouse of ideas for public art on the trail which included benches, mile markers and any items with a design element, Giese helped coordinate artwork and amenities for the trail.
Vision for Trail Furniture
From the beginning, discussions about the trail referred to it as a "World-class Trail." Not necessarily a theme, Giese knew that everything needed to be high-quality, unique - more than just the typical item that would be seen on a trail. They wanted to take the public trail art to the next level.
As discussions continued, the natural beauty and history of area became the focus which helped drive the design. Having a beautiful area to draw upon, Giese says it wasn't hard to find elements to pull from.
To determine the specific items and numbers needed Giese looked to similar projects from Wisconsin. She found a great resource in the Hank Aaron State Trail in Milwaukee - a similar Rails to Trails project and Melissa Cook, Trail Manager with the Wisconsin Department of Natural Resources.
"She gave some really good advice about the things that are a must on a trail," says Giese.
Scouting locations that made the most sense to place benches, Giese and her team came up with a total of 16 benches for phase 1 of the trail.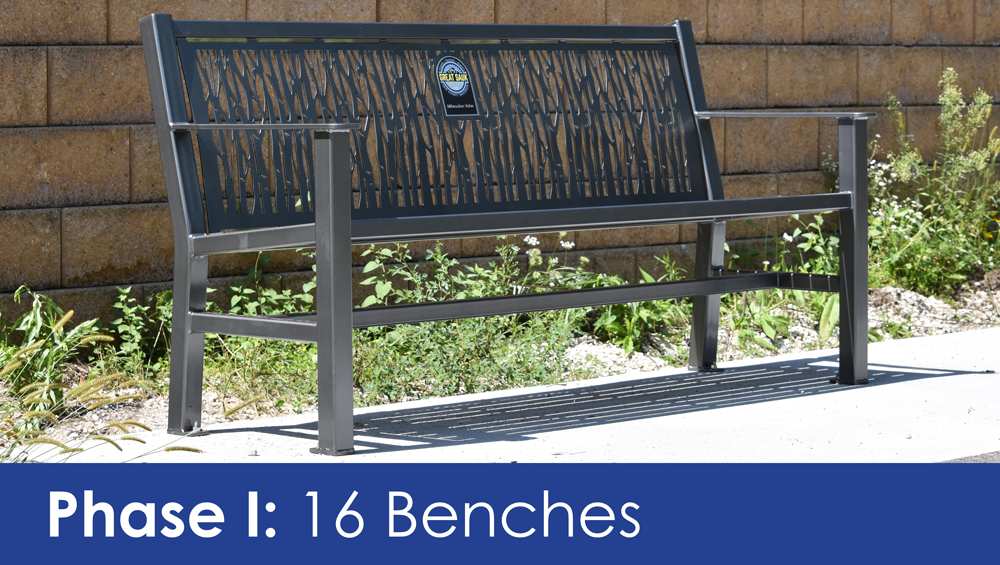 For mile markers they knew they wanted at least one every mile. But with support for the trail ending up being so strong, half-mile markers we are also added to the overall project.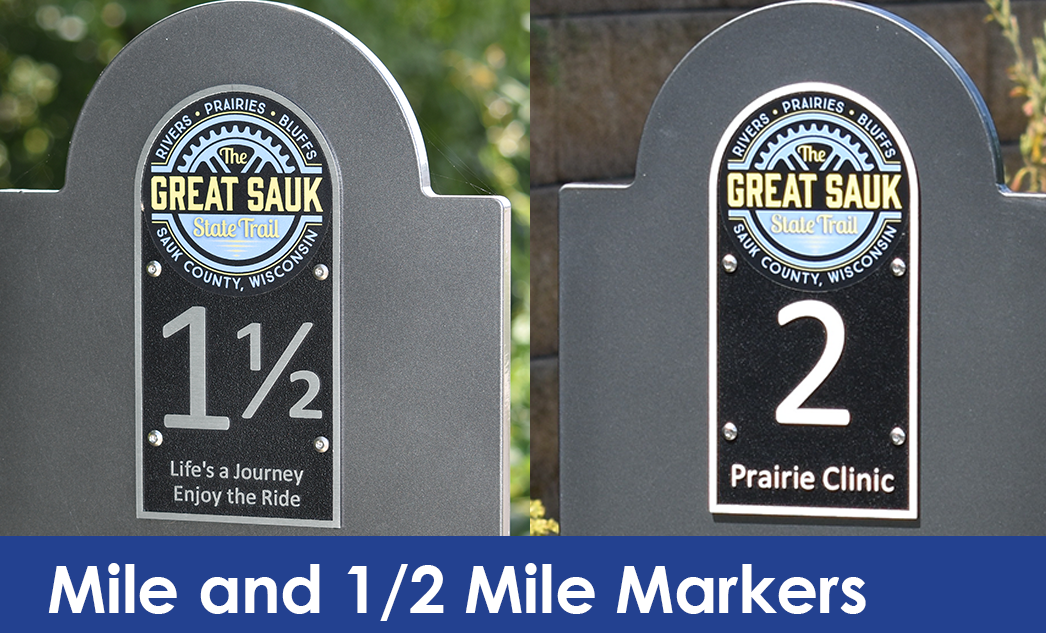 Selecting a Site Furnishings Manufacturer
Staying local in its selection of a site furnishings manufacturer was an important detail and the committee began reaching out to manufacturers. It wasn't until Brian Weeks with Thomas Steele approached Giese that they found the right partnership.
"Brian was very passionate about the trail from the beginning when he approached me," says Giese. "He was great about giving me feedback on what would be the lowest maintenance, long-lasting benches. He helped find the right product because he understood that part of it better than I did, and I was all about the design."
Trail Furniture Selection Process
Together Giese and Weeks began by look looking at different bench options from the Thomas Steele catalog. Because of the objective of the trail furniture to be unique, selecting a bench out of a catalog would not be acceptable.
"I said I can't just pick a bench out of a catalog. I need something with that higher-end element," says Giese. "He [Weeks] said 'Yeah no problem. We can custom make anything that you can dream.'"
As much of the funding for the trail artwork came from donors, it was also important that all the decisions and elements that were put the trail were low maintenance. They needed to be easy-to-maintain for decades to come.
Once complete, it is expected the trail will be the most used trail in the state of Wisconsin. To stand up to years of use and Wisconsin weathers, durable benches were also a must. These factors were used in deciding on metal benches.
Giese then started coming up with different themes and ideas. Weeks would then send back his feedback along with renderings. After a few rounds of exchanging ideas, a final design for the custom outdoor furniture was agreed upon.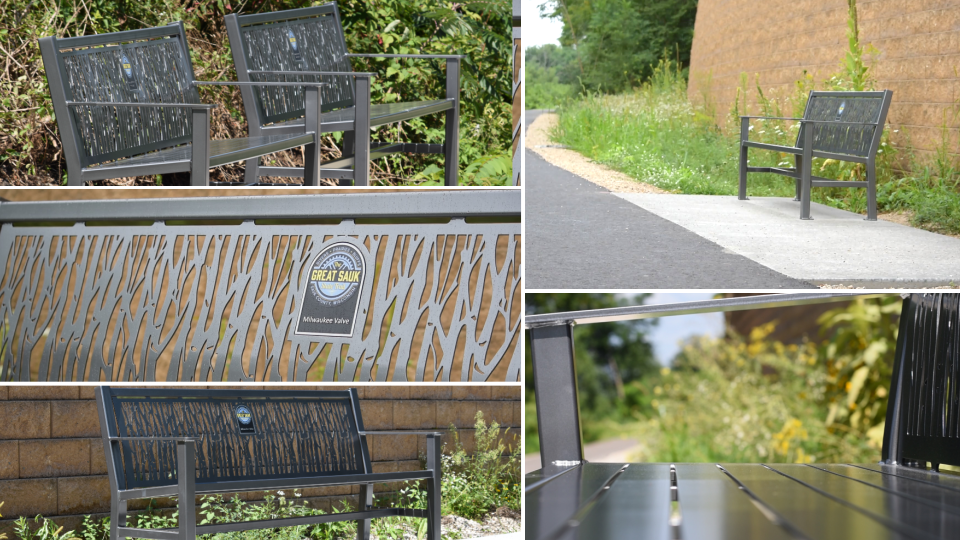 The mile markers were an adaptation of Madrax Shadow Bike Racks Giese found when looking through catalogs.
"I thought this could be a really cool, non-traditional mile marker," says Giese. "Most people expect the post with a number on it and again taking it to the next level we thought how could this be a little more artistic?"
To create the mile marker, the "bike rack" was elongated and the cut-outs that project the shadow were custom-designed. Giese settled on a crane and an eagle which are both prominent around the trail area.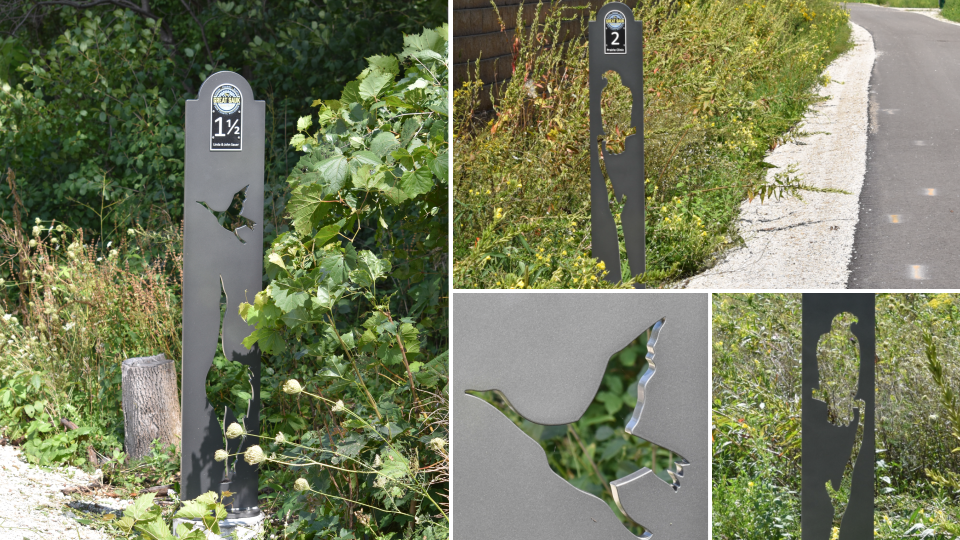 A Successful Outcome
The passion brought to the project and knowing she would be a priority is what Giese credits for the successful partnership.
"I knew once we said yes to working with Thomas Steele that Brian would stay true to his word and would help me reach the goals that we were looking for" says Giese. "I was able to work with Brian and find products that were actually more affordable than some of the competitors so it kind of became a no-brainer that I'm getting a custom product that's the same quality or better for a lower price."
When the final decision was ultimately made, all the committees, the commission, everybody weighing in, they knew it was the smart choice.
"I definitely would recommend working with Graber Manufacturing and I think if you do then you should push the company to get those custom ideas," said Giese. "I mean why not think big? It's the luxury of going with a company where you can customize a little bit to fit your needs and still get a good quality product at a good price."