Benches are great ways to serve as a memorial. And there are many ways memorial benches can be used.
For example, they might be for someone who has passed or to mark a significant event. They can also be used to honor a very important person or in recognition of donors.
No matter the reason, erecting memorial park benches often raises many questions.
In this post, we'll cover all the considerations for ending up with the perfect personalized memorial bench.
Memorial Plaques for Benches
When thinking of memorial outdoor benches, a common style is the bench plaque.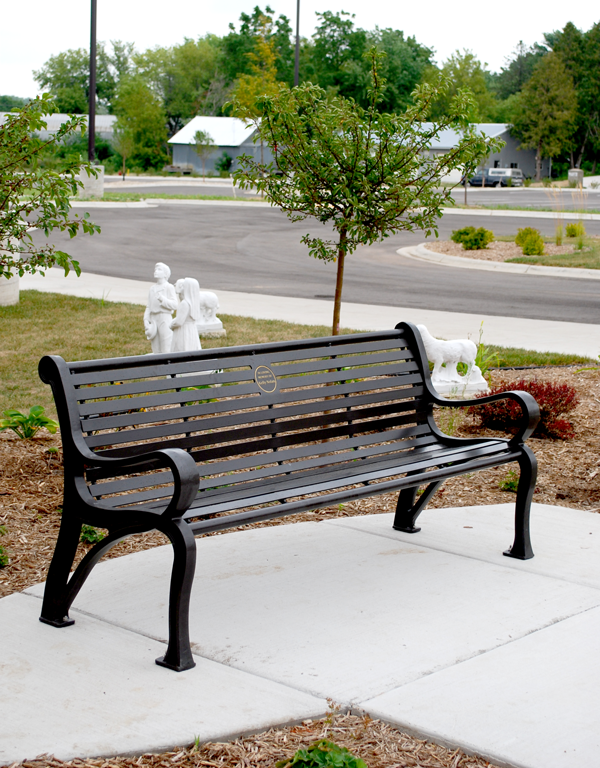 We'll get into everything to do with plaques in just a bit. But the first thing most people want to know is what type of bench can I put a plaque on?
Really, most any of the Thomas Steele benches can be modified to have a plaque added to it. But the best options are benches with vertical or horizontal metal straps.
Examples of these classic memorial benches are the Carnival and the Livingston.
The reason these make for good metal memorial benches is their ability to have a plaque pocket built into the design.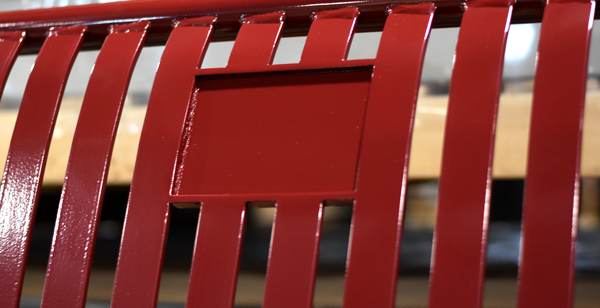 The plaque pocket is a recessed area in which the plaque is placed and adhered to the bench with epoxy glue.
This is a preferred way of integrating the plaque with the bench because it makes for a more finished look. It also keeps the surface smooth. Giving the person sitting more comfort and less chance of getting scratched or cut.
It is also much more difficult to remove the plaque or vandalize it when adhered this way.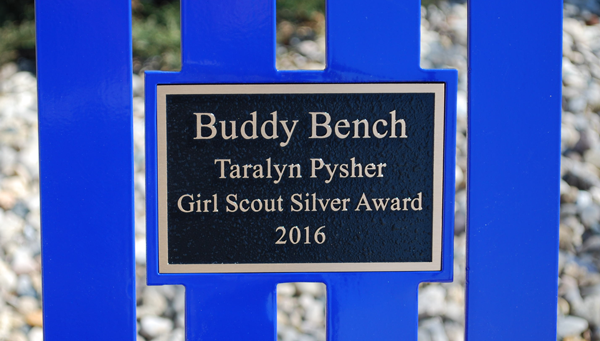 It's not to say plaques can't be put on benches made of other materials, like steel rods.
If your preference is a wooden memorial bench or recycled plastic bench, the same plaque pocket strategy is used. In this instance, the pocket is routed out of the plank.
The thing to keep in mind with this style of bench is the width of the plank. As the board will "hold" the plaque, the size of the plaque must be slightly smaller than the board.
This might limit the size and type of plaque that could be used with an outdoor wooden bench.

The location of the plaque pocket is typically placed in the center of the backrest. This location can be placed on a different area of the backrest, on the seat, or even between the legs of the bench.
Multiple plaques can also be added to a single bench.
The Memorial Plaque
There's no shortage of shapes, sizes, and styles of plaques that can be used on a bench.
Thomas Steele offers two standard plaques - one rectangular and one round. The rectangular plaque measures 6" long by 4" high. The round plaque is 4" in diameter.
Both are made of ¼" thick cast bronze. Each plaque features precision milled raised letters and border.
Standard plaques are limited to displaying text only.
Up to four lines of text can be added to either plaque. The total number of characters on each line is dependent on the font selected.

But don't feel that you're limited to just these options. Your plaque can typically be customized with the features you want.
Customers have customized the outline or shape of the plaque.
Some have added graphics to the plaque.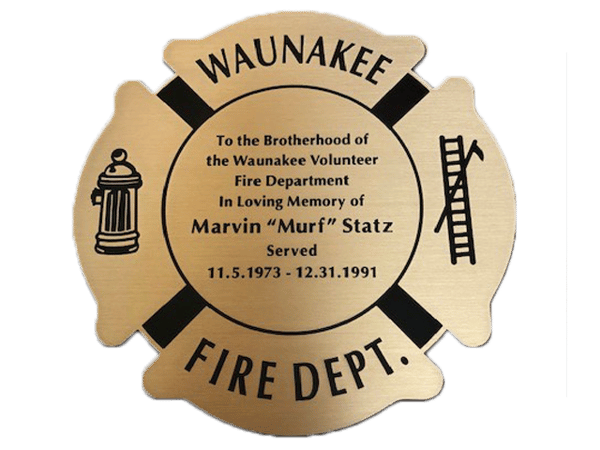 Background colors and textures can be changed.
Letters can be recessed or raised.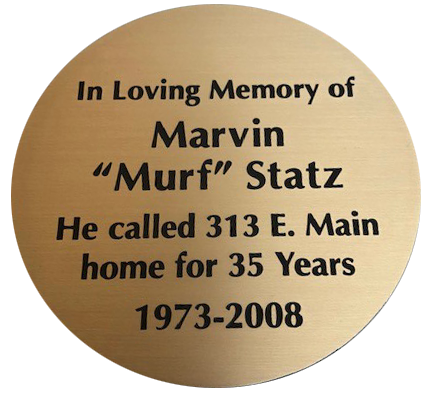 Or you can go with a fully-customized design. Get as personalized with your memorial benches as you want. Learn more about custom outdoor furniture.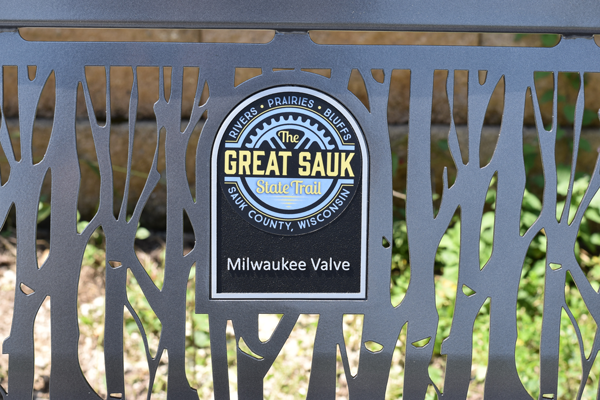 Already have a plaque?
If you have a plaque or other item you want to use, adding it to a bench can often be accommodated.
You will need to know the exact dimensions and provide this information ahead of time in order to have the plaque pocket built into the bench.
Adding Plaques After Installing the Bench
Plaques can be added to benches at a later date. They do not need to be installed before they leave the manufacturing facility.

For example, benches are often purchased and installed prior to securing donations or sponsorship. Once this happens, the plaque with this recognition can be added to the bench.
To do this, the plaque type and size will need to be agreed-upon so the bench can be manufactured with the appropriate pocket.
If you'd like to go this route but would prefer there not be a "blank" space on the bench, a temporary plaque can be used and then removed once the final plaque is ready.
Alternative Memorial Bench Ideas
Personalizing or including unique elements are great ways to make your bench extraordinary. One example would be customizing the armrests.
Or, skip the bench altogether and add a plaque to a planter or receptacle.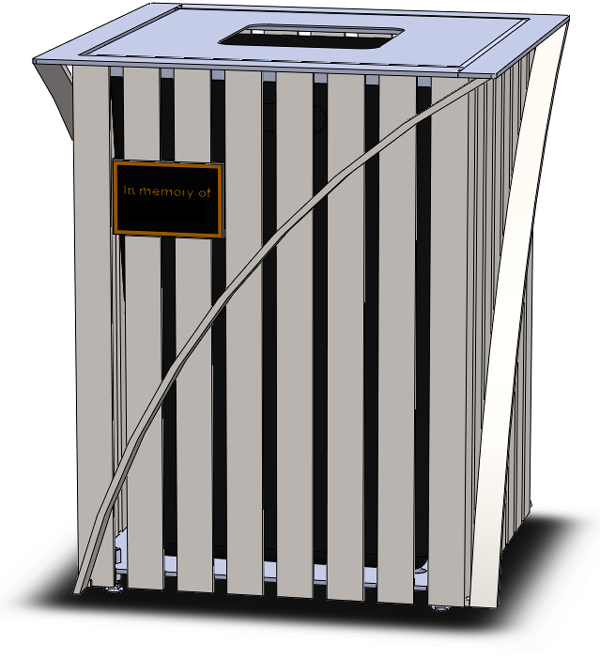 Memorial Bench Cost
It's easy to get caught up in all the options to memorialize people and events with benches, but many times cost needs to factor into the final decision.
To get the most for your money, it's worth knowing the majority of your budget will go toward the cost of the bench. Select a bench that leaves room in your budget to get the plaque or memorial item you want to include. Then as you add customization to your plaque, keep in mind that your costs will also rise incrementally.
Other expenses to be aware of are taxes and shipping.
Ready to Get Your Bench?
Start by looking at different bench styles to get a sense of what you like and begin thinking of the type of plaque you'd want. Then reach out to us and we can work with you to come up with a memorial bench to convey exactly what you want.
What's do you think makes a great memorial bench?
Leave your feedback in the comments below.