Finding the perfect table for your outdoor space has never been easier! With the ability to build your own table on our site and see it in real time, you'll have no trouble getting the perfect Courtyard Table for your outdoor space!
Our courtyard tables are elegant, durable, and most importantly versatile - they can be used in any type of outdoor space application. Customize our tables to fit your unique needs with our wide variety of materials and colors, size offerings, seat styles, and more!
The options are endless, from natural wood seats to bold powder coat color options like yellow or green. Choose the style of your table; square or round, as well as how tall you want the table to be!
Our customizability doesn't stop at size and color though; our products are also ADA-compliant! If you need a table with wheelchair access or have other special requirements, we can help you out with that too.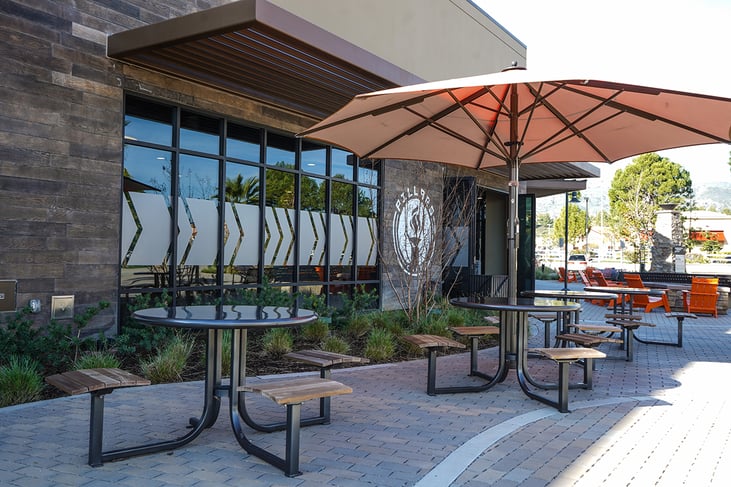 Let's take a look at all the options you have available so you can start building!
Step 1: Choose your Seat Style
Choosing your seat style will determine the base design that you will continue to customize from. Choose the right seat for you between our 16 different styles.

Step 2: Determine the Number of Seats
Thomas Steele courtyard tables can include anywhere from three to six seats per table. It should be noted that three-seat tables can be ADA-compliant when selected at dining height!
Step 3: Designate your Table Height
Our courtyard tables give you flexibility to determine your space, number of guests, and which style you see most fit. Lounge, dining, and bar height tables each lend themselves to separate goals and objectives for your space.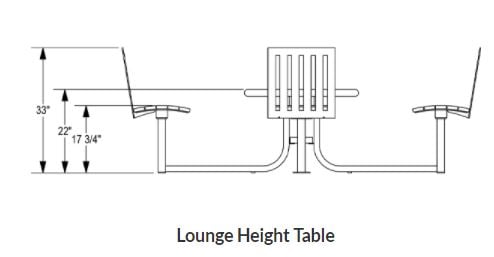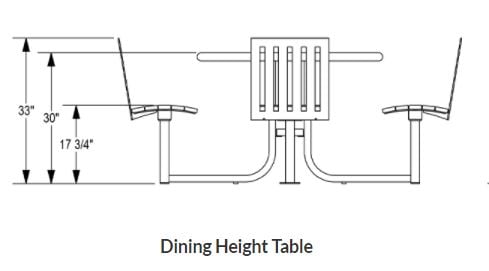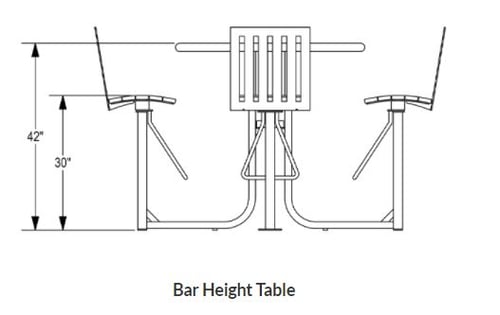 Step 4: Choose From Table-Top Options
This is where your table starts to come to life. Choose your material and color options now! Tables-tops are offered in round and square options with perforated metal, recycled plastic, Ipe wood, powder coat, or stainless steel.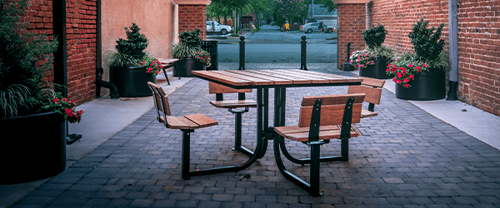 What's more is that we also offer tabletops with checkerboard inlays, for spaces that want to emphasize community and a relaxed environment!
Step 5: Choose Your Metal Finish Color
The last step is to choose your metal finish color. This will be the color of the seat and table supports and/or the table-top color if you opted for a powder coat top. This is the step where you may pick between our 22 various colors.

See It In Your Space!
Now that you have made all of the necessary decisions needed to properly fabricate your table, see it come to life with our courtyard table 3D configurator! Select your table and make your design decisions. Then, on a mobile device, use the configurator's augmented reality feature to see the table in your space! Resize, move, and place in the correct area to get your best idea of what it will really look like when it arrives!
Contact Us!
We would be happy to discuss your site furnishing options with you! Please let us know how we can assist, and we'll go from there!
You may email us at sales@madrax.com or call us toll free at 800-448-7931.