A place of worship is more than just a building; it's an expression of the community that uses it. But what does this mean for your church or temple? Well, it's up to you!
The leaders in a religious community know that the way their house of worship feels and looks has a direct impact on the way they are perceived by visitors and members alike. From pews and pulpit chairs to tables, lighting fixtures, and even landscaping, great attention should be paid to every detail so that worshipers can feel welcome and comfortable when they come into the space. And this extends to outdoor furniture as well!
Outdoor furniture for houses of worship can help to express the unique character and set a tone that captures the spirit of the congregation. Is the congregation traditional in nature, or do they lean toward the contemporary?
With the right pieces, outdoor furniture allows you to create features that draw in visitors, while also providing places for them to relax and feel comfortable. If your indoor space feels warm and inviting, people will immediately notice when they enter the grounds.
Benches, planters, waste receptacles, and tables are all great additions when creating an inviting atmosphere. They can be used to provide seating in the shade or be a space for meditation and prayer.
But with so many options to choose from, selecting the right site furnishings for your space can be difficult.
But Thomas Steele is here to help!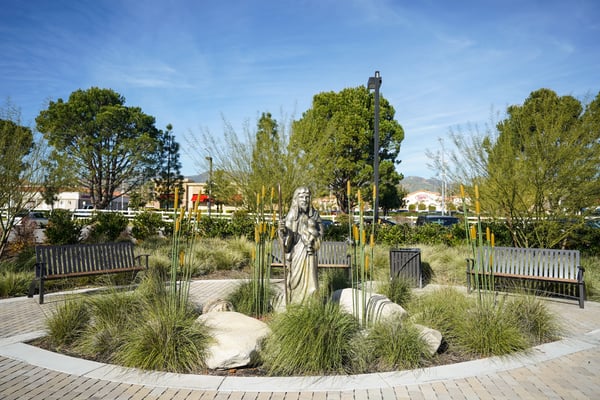 As a manufacturer of site furnishings for over 20 years, Thomas Steele has been helping churches and temples create welcoming environments for decades. We are committed to providing high-quality products at an affordable price point so you can create your dream space without breaking the bank. We can also help you determine what will best suit your needs and your budget.
Materials
Our products are built to last, and can be customized to fit any style or personality. Whether you want something simple and elegant, or something more ornate, we have a solution for you. We offer a wide range of materials so you can pick something that fits your tastes. You'll find everything from rustic wooden benches to sleek metal tables that are sure to add elegance to any space!
Steel - When talking about the materials of site furnishings, you usually need to start with steel. More often than not, an outdoor site furnishing piece will have a component, frame, or be entirely crafted out of steel. We offer several different steel finish options, including powder coat, stainless, and galvanized.
Ipe Wood - Pronounced "ee-pay", Ipe is a wood from South America and a great material choice for outdoor site furnishings. It naturally resists harsh weather, heavy use, rot, abrasion, and insects. Site furnishings with Ipe are great compliments for installations in landscape designs because of the natural-looking material.
Recycled Plastic - The material is manufactured to resemble the visual look of wood but also provides longer-lasting durability. There generally two styles of recycled plastic. The first is standard recycled plastic. This is recycled plastic that resembles solid lumber boards and is available in a handful of colors. Then you may see embossed recycled plastic. These boards have been crafted to resemble wood more visually in color and unique grain profiles, while also having a more natural texture.
Selecting the right materials for your site furnishings can really enhance the look of your space. For example, if your church has a lot of wood in its architecture, consider incorporating recycled plastic or Ipe wood furnishings to compliment your aesthetic!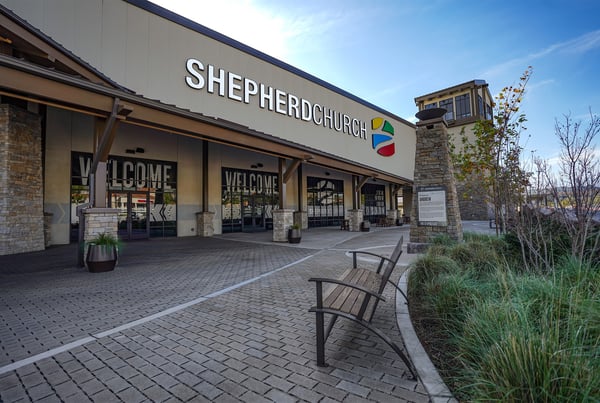 Furniture Options
The next step is deciding on what type of furniture makes sense for your site. Are there any particular needs you need fulfilled? Do you want something simple or elaborate?
Benches - A bench is a great way to add seating in your outdoor space. Whether it's made from wood or metal, we have a wide variety of styles and colors that will complement your existing décor. Consider adding some new benches outside for people to sit on while talking with one another after a sermon or mass.
Planters - Bring vibrant colors to your church or temple with a beautiful flower arrangement! We offer a wide selection of planters, including elegant handcrafted designs that look great on their own or filled with beautiful flowers. Add some large planters filled with flowers or plants so people can enjoy them during their visit as well as afterward when they go home again!
Waste Receptacles - Control litter with eye-catching outdoor trash receptacles. Select from the many styles and sizes of commercial trash receptacles that will maintain the beauty of any space. No matter if its a metal trash can, a wooden trash can, or recycled plastic trash can, we believe outdoor trash cans should not only be beautiful and durable, they should be affordable.
Tables - Bring people together around our handcrafted commercial outdoor tables and seats. Whether your place of worship holds picnic and events or just want to give space for larger groups of people to sit together, a collection of outdoor tables and chairs is a great addition to your space.
No matter the size or shape of your outdoor space, we have a wide variety of furniture that will add visual appeal while providing a place to sit and congregate!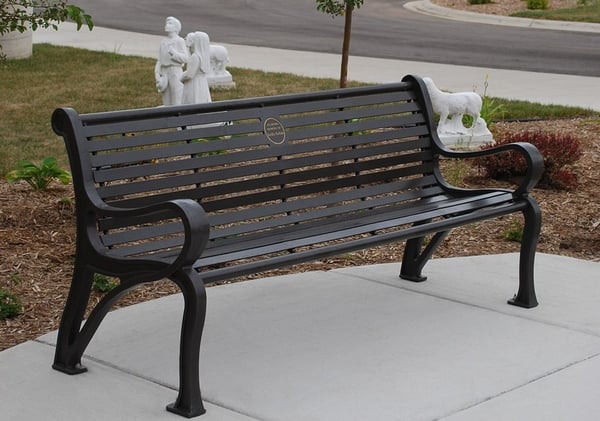 Custom Furniture
If you'd like a more customized approach, we can work with you to create something that's truly unique. We're happy to help you achieve your vision for your outdoor space! A lot of places of worship will make use of religious symbols and texts for decorative design. Please contact us if something like this interests you, and we will be happy to work with you!
There is also the option to incorporate site furnishings with memorial plaques into your space. You can do this to honor someone who has made a significant impact on your community. This isn't just limited to benches either, we can incorporate a memorial to almost any of our furnishings.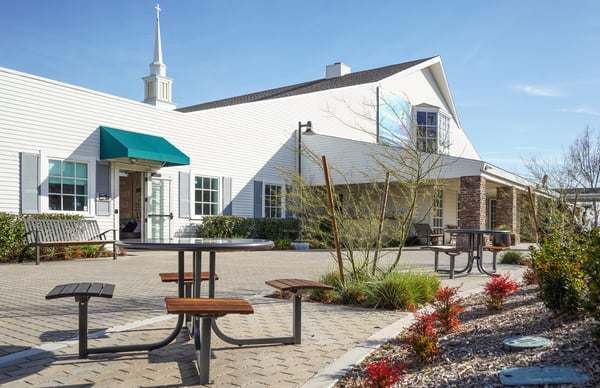 Location
Finally, think about where each piece will go—where would they look best? You may want the furnishings in an area where there is already some greenery so they blend in with the scenery. You could also want them in a space that's semi-secluded from other areas so people can have their own little corner of the garden to pray. Or you may want them to stand out and become the focal point of your outdoor space. It really depends on the atmosphere you want your grounds to convey. Either way, Thomas Steele has what you need, and we are happy to help you get started if you feel lost!