Upward Trend of Outdoor Dining Areas
Outdoor dining spaces around commercial properties are becoming an increasingly important amenity. Especially for those with a desire for attracting and engaging customers. Elizabeth Cole, Senior Project Manager for Project Development has seen this trend take shape at the Wadsworth Development Group.
"I think there has been an increasing emphasis in the last several years for interactive space that is inviting so that people will stay, linger, and interact with the space. Hopefully engaging the business in that interaction," says Cole.
Brandley Payne, the General Manager for Classic Landscapes, also sees these as amenities benefiting office commercial properties. "I would say the trend [of having outdoor dining spaces] is becoming more popular. More businesses have wanted these features around their office space because they want to attract good employees."
They are also key investments for apartment living. A community-wide outdoor kitchen amenity has shown to help increase per-unit revenues for multifamily housing properties.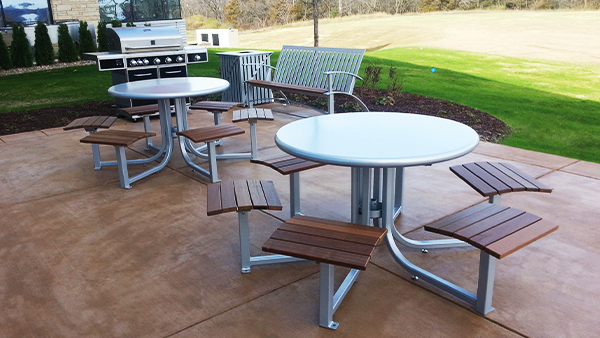 An important amenity in the pursuit of a competitive differentiation, outdoor dining areas will need to be designed and furnished in a way that best interacts, engages, and encourages customers and tenants to stay longer.
Design Tips for Outdoor Dining Spaces
Like any design, the best first step is to understand what you want to accomplish with the space.
Will the space serve multiple restaurants or businesses in the area? Or will it be for a single location?
What are the demographics of the people you are looking to attract?
What types of outdoor dining experiences will they have? Alone? In groups? Will they bring food or make it here?
Starting with a vision for your outdoor space, you can then begin to form your outdoor dining design ideas and plan the elements that will need to be included.
Location
Outdoor dining spaces are key amenity pieces. Locate them in prominent site locations.
Community areas of apartment buildings that are easily accessible and in view of as many units as possible. While being shielded from direct public view.
Office courtyards that let workers get outside the walls and cubicles of the building, but also provide some coverage from direct sunlight.
Extensions of restaurants that could be connected to the property and allows for table service. Or a nearby "public" space customers of multiple restaurants and businesses can utilize.
Practicality
One thing that needs to be kept in mind, however, is the scope of the design and the practicality of construction.
This is something Payne has much experience in. A licensed and practicing Landscape Architect, Payne also manages the construction projects for Classic Landscape.
"I would suggest looking at things practically. What can actually be built and reasonably built to a budget," says Payne. "Trying to make something look awesome is only doable if you can actually construct it."
It is easy to be inspired by trendy showcase installations, but it will be important to keep an eye out for constructability. Site features and furniture can be large in size and heavy to load into the site. Think about how the big pieces are going to get into your space. Or how will they be built on top of the surface?
Designs can quickly fall apart when you only attempt to achieve an overall look, rather than also considering the practicality of constructing it.
The key is to strike the right balance of unique visual appeal that creates a functional space. This means even simple updates to common areas, like adding the right mix of features and outdoor furniture, can transform unused space into a place tenants and customers spend more time.
Outdoor Dining Patio Designs
Good weather and mealtimes will bring people outdoors. And they will need places to sit and informally eat their food. Benches and ledges just don't cut it for these purposes.
Have you ever tried eating on one of these? Having your food not fall all over the surface or spill on your clothes is quite the feat.
Having a feature element will also enhance the space.
Fire features can bring an ambiance to dining and are great for the long-lasting enjoyment of customers and residents.
Natural elements like trees, plants, and landscape designs are a great respite from the office environment.
Cole worked with EPG Design and used this feature & furniture strategy to transform a common area owned by the Wadsworth Development Group into a dining space that could accommodate several restaurants and other business tenants that occupied properties around the space.
The goal was to create an attractive, inviting, and functional dining area where people could take their food, bring it to eat, linger if they wanted, or then leave.

Image courtesy of EPG Design
The design of the space includes four fire features. Two were double-sided fire pits with living-room style seating.
The other two were tabletop-style fireplaces lined with bar-style tables and individual seats.
Cole feels having multiple styles of seating will attract and keep customers around longer.
"The functionality of different types of seating is what I look for," says Cole. "We want to be able to service or appeal to the broadest range of guests or customers."
For visitors who are by themselves and want to eat quickly, bar-style seating is great for this. A longer, bar-height table paired with individual seats is great for someone to have their own spot.
Then for small groups or families, table seating is a great option. They can sit together in one area and it makes it easy to interact. Where bar-style seating does not function well for groups.
To serve more casual users and those who are done eating and want to linger in the space, lounge-type seating appeals to the person who wants to stay with a book or enjoy a sunset with a drink.
The different seating options are a perfect recipe for serving the purposes of everyone who comes to enjoy the outdoor dining space. And the attractive fire features will allow the space to be used longer into the winter season.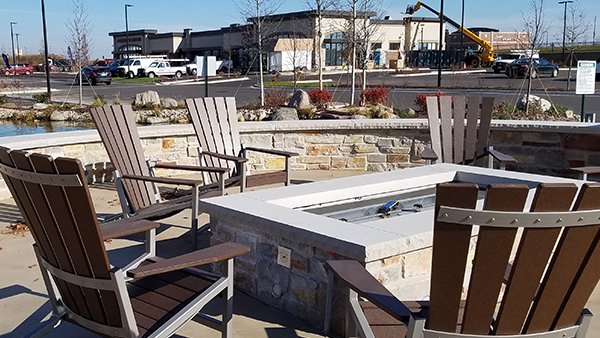 Outdoor Dining Furniture Selection
One of the first considerations when selecting outdoor dining furniture is the ownership and usage of the space.
Areas monitored and maintained by the property owner or tenant can include movable furniture items.
Lighter furnishings like café tables and chairs can be used if they will be brought in every night. Or if it is a secured space accessible by the building occupants. Smaller tables and chairs may also be used to increase the density of dining options.
In a multifamily setting, moveable tables and chairs might be a more desirable option as well. Inviting guests over, allows the tenants to customize the layout and arrange the furniture to best suit the group's size and needs.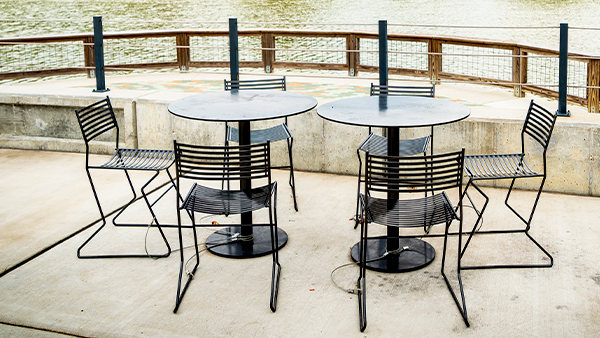 A more publicly-accessible space will require site furnishings that can be adequately anchored in place. Items should not be easily moved or moveable at all.
Individual seats and tables that can either be surface mounted to existing concrete slabs or in-ground mounted on new construction would fit this requirement.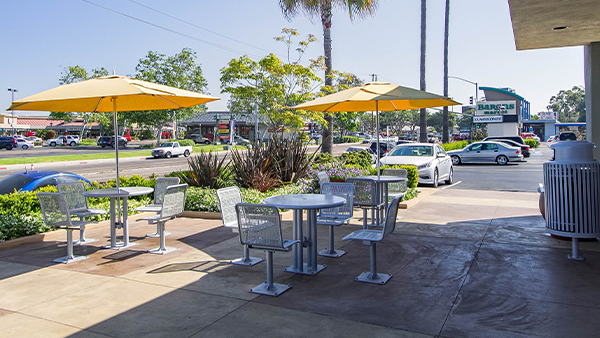 Seek out pieces that look appealing but will also be quite secure.
Enriching an Outdoor Dining Room Design
Cole points out another key feature of an outdoor dining area design is lighting and how important it is to creating the overall feel.
"It can keep people in your spaces and interacting much longer and it also adds an element of safety," explains Cole. "Having your lighting distributed in a way that's really appealing and creates some sort of intimacy in the space is very important."
Cole feels an added benefit is that it helps people see the space from a distance, be drawn into using it, and potentially interact with the businesses around it.
Architectural lighting products are premiere options for illuminating commercial spaces in this way.
Residential spaces can use string lights, lanterns, and LED lighting products as stylish and affordable ways to set the tone for their outdoor dining areas.
Litter receptacles may not be the first thing that comes to mind when improving the appeal of an outdoor space, but it is still a must-have.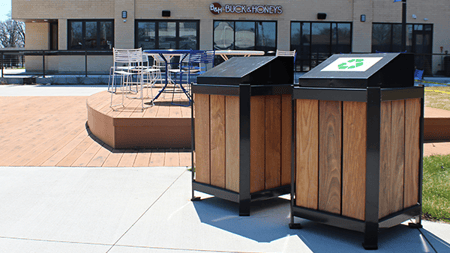 Take-out or even bring-from-home meals can contain a lot of potential trash – food scraps, paper bags, Styrofoam containers, disposable cups, utensils, napkins, sandwich bags. All of this can turn into litter that collects around your outdoor space if visitors do not have a nearby place to dispose of landfill and recyclable items.
Planters are another functional item that can serve multiple purposes. Not only can they add splashes of color or grow vegetation where otherwise not practical, they can be a barrier or define different spaces within the outdoor area.
Picking the Best Materials
You will also need to consider the materials as part of the furniture that makes up your outdoor dining plan.
Look for products that offer you multiple material choices. The ability to mix and match within the same palette of materials offers a terrific opportunity to blend with the environment and help you actualize your design.
Make sure your metal will last. In most cases the furniture will live and need to survive outside for years.
Powder-coated steel is a protective barrier. However, the powder-coat application process can be the difference between having to replace flaking and rusting furniture after one season and having beautiful pieces that last for years.
Get the wood look without the cost or maintenance. Recycled plastic can provide a feeling of warmth on site furnishings and offer long-term functionality.
If the furniture will be in a public setting and regular maintenance will not be on the schedule, opt for a material like recycled plastic that can hold up to heavy traffic and all environmental conditions.
This material requires less maintenance than wood, which will need occasional re-staining to hold its original look. Recycled plastic has a greater resistance to fading. It is also impervious to cracking, mildew, mold, rot, and insect infestation.
Choose fabric upholstery and loose cushions with caution.
"They are beautiful, appealing and lovely for a very short period of time," says Cole. "Furniture with cushions or fabric upholstery is very, very tough to maintain. So, unfortunately, although they are charming to have, they are just not functional for public spaces."
Choose awning materials carefully as well. Some materials can disintegrate quickly. Especially in climates with intense sun and snow.
Find a Single Source for Your Needs
The ability to source the different styles of products from a single manufacturer can be a huge benefit.
"I wanted all the materials to have consistency and the ability to coordinate," says Cole. "Although we varied our materials, we didn't want a similar material to look different from different manufacturers."
Cole further stated they decided where to purchase their site furnishings based on a combination of visual appeal and the ability for a single manufacturer to meet all the needs of the different seating types in their plan.
Increasing Need for Outdoor Dining Areas
With indoor dining significantly reduced or effectively eliminated for most restaurants, take-out has become their lifeline to staying in business. But that experience of eating out, or at least going somewhere other than the house you are quarantined to, has been lost.
This is where an outdoor dining space, on location, or even nearby, can attract more business for tenants.
"I think it's easy to draw a direct relationship between the additional seating provided in this public area and the restaurant's ability to increase sales," explains Cole. "I think there is a direct relationship between an appealing, inviting area for public seating and the sales of the restaurants or businesses around it."
Built-out outdoor dining areas is also a third space for multifamily properties giving renters more living space beyond the apartment. This area can act as a supplement for smaller or standard appliances in the unit.
Design your outdoor dining space with purpose and it can be an amenity that improves any property.
Site Furnishings to Realize Outdoor Dining Room Ideas
| | | | |
| --- | --- | --- | --- |
| | | | |
| | | | |
More Tips for Designing Effective and Functional Outdoor Spaces