A better office environment exists on your property. It has better lighting. Better décor. Better health benefits for workers.
This of course, is the great outdoors.
Spending time in nature has shown to increase creative thinking, problem solving and happiness. The type of workforce improvements any business would benefit from.
It's why the popularity of the outdoor workspace amenity continues to rise and has recently been amplified by the COVID-19 pandemic.
"I definitely feel like the outdoors is so important right now," says Lana Idriss, a Landscape Architect with Dekker/Perich/Sabatini. "It's a place people feel like they are safer because of the current health conditions."
As the way we work continues to evolve, the need for the outdoor office room will be a necessity for any office property.
And you can transform your area with just a few of the outdoor office design ideas shared here.
Variety Should be Standard
You can have a beautiful landscape and ideal environmental conditions, but no one is heading outside if they have to work on the ground.
This is why your outdoor office space ideas should start with seating. Start by thinking through things like:
Where will people sit?
How many users will need to meet?
What type of surfaces will they have to work from?
Will the furniture be fixed or moveable?
The key is to not get locked into one seating option. Try to accommodate for different situations and make the space more functional for all users. Provide ways for large or small groups, as well as individual workers to utilize this outdoor office space.
You can accomplish this by providing a variety of seating options.
"It's important to have a variety of spaces," says Idriss. "The more options the better."
For example, the seats of courtyard-style tables are arranged in a way that lets groups of people work together and collaborate. There is also adequate surface area for everyone to have their laptop, tablets, or old fashioned paper notebooks.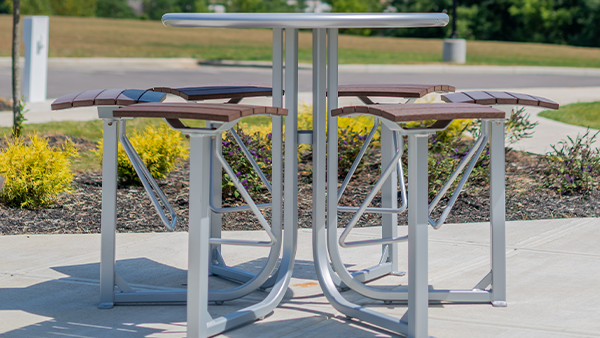 Longer tables with bench or individual seats and picnic-style tables also make for good areas to have a meeting.
These areas also come with the added benefit of serving as an outdoor conference room. This creates another meeting space that eases the burden of overbooked indoor conference rooms. While being an environment that fosters new ideas and creative problem-solving approaches.
"You look at studies of people having a view to natural landscape, even if they're indoors," says Idriss. "It promotes better health and happiness. Having outdoor spaces helps with that."
For single users looking for an outside office, bar height tables with individual seats make for good workstations.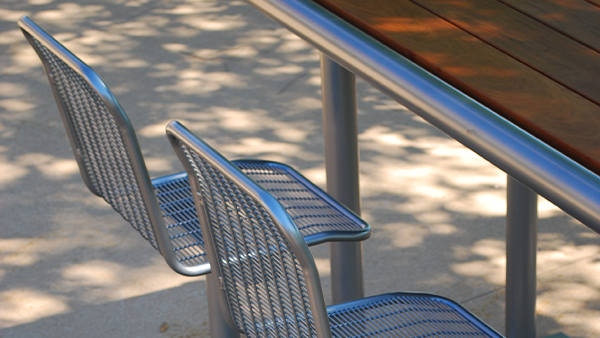 When selecting seats, it's recommended you choose seats with a back. They will offer more support and provide comfort for long-term use.
Also, benches that let users lounge are great for one person or two colleagues to use.
Square tables with bench seating or flat benches aligned perpendicular or facing each other are also great spots for one person or a small group to use the space as well.
Moveable or Anchored Furniture
Another key item to be thinking of as part of your design ideas is how permanent the installation will be.
"When I'm thinking about the way we arrange outdoor workspaces, what I think is really important is if the site furnishings will be fixed in place or movable," says Idriss.
Flexibility to accommodate different group sizes would be one reason for movable furniture. For example, users can pull up extra chairs to a table. Or they could push tables together to accommodate a larger meeting.
This type of furniture is also beneficial if the space will need to be cleared, used for other purposes, or even for cleaning/maintenance.
If you opt for movable furniture and will need to store or lock it up, factor this into your product selection.
"We've had issues where the seats are not stackable," says Idriss. "That can make them harder from the maintenance aspect to lock them up every day or put them away for certain occasions or events."
In many situations, it will just not be feasible to move or lock up the furniture every day. For these applications, products mounted in-ground or anchored to the surface should be chosen.
It does limit the flexibility of the space, but this is where having a variety of seating styles would be even more valuable.
Materials
"The materials are always very import," explain Idriss. "Look at the warranties of the product and the material of them."
You're going to want a material that lasts and depending on your maintenance budget, something that doesn't require a lot of resources to keep up.
Idriss says she uses a lot of powder coated metals for the finish on the metal. And that you can make a dynamic space that stands out by choosing "Colors, fun colors."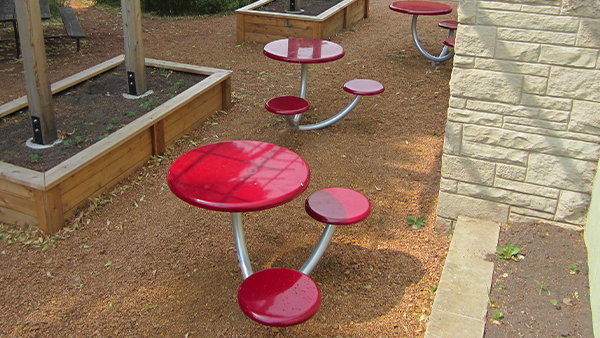 She occasionally uses wood. But this material does require additional maintenance and something the property owner or manager will need to factor into their decision.
Recycled plastic is another material that has increased in use in the last few years because of its aesthetics that are beginning to match wood more closely.
The real benefits come in that it is a material that does not fade, crack, or splinter, is impervious to mold, mildew, rot and insects, and doesn't require maintenance beyond an occasional soap and water cleaning, if necessary.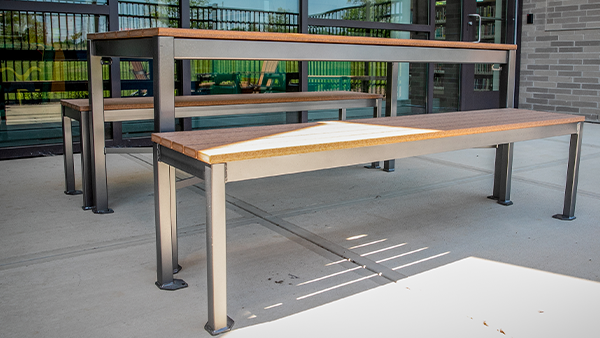 If that isn't enough, it's typically a cheaper option than wood.
Features
Adding features to your outdoor work areas can make the space even more desirable.
Water features, like fountains on the larger scale to bird baths on the smaller end, can add value.
Planters are great options for adding color or greenery in more urban environments. Planters with integrated seating elements work well in tight spaces and streetscapes. Places where there might not be room for full tables and chairs.
When you have an area where you just cannot get landscape in, the site furniture product options can play a larger role. "The materials of the site furnishing or site pavement is a way for the space to feel dynamic and interesting without bringing in all the vegetation," says Idriss.
Give Your Outdoor Workspace Some Cover
Shade should an integral part of your design. It could be the natural vegetation that provides the shade, a product option like an awning or umbrella, or even the building that provides protection from the sun.
Trying to look at a computer screen in an outdoor environment can be tough. Providing some sort of shade for those areas is important.
Removable umbrellas are nice when needing to clear the space for other events or during winter months.
Something more fixed-in-place or that has a more permanent roof gives the space a defined purpose. These fixtures are also good for areas that frequently experience rain. The added protection can make the space more reliable and extend when it can be used.

Images Courtesy of Dekker/Perich/Sabatini
Sourcing Products
Idriss says she usually tries to stick with one manufacturer. But when budgets or the price points of the products she likes do not allow for this, she says avoid getting the same color from two manufacturers. "Usually you can never get them to match," explain Idriss. "I try to get complementary colors between manufacturers rather than trying to get them to match."
Another tips Idriss says is to choose one really cool piece from one company that you'll use as a stand-alone element. Then you can get everything else from another manufacturer.
The more you're able to get from a single supplier the more cohesive your space will look by having a consistent pallet of materials and colors.
Transform Your Outdoor Office Space
The outdoor office, meeting space or workplace retreat is an amenity that will continue to be a key feature of most office buildings. Applying the right design ideas and making smart site furnishing selections will help you get the most value from this investment.
Bring your stylish and functional outdoor workspace ideas to life with these site furnishings.
| | | | |
| --- | --- | --- | --- |
| Courtyard Table | Square Table | Picnic Table | Individual Table |
| Cafe Table | Individual Seat | Flat Bench | Cafe Chair |
---
Related Articles