How best to use a terrace space starts by determining the type of programming you envision for the space.
Will this be for outdoor dining?

Are you looking for a lounge atmosphere?

Do tenants need an outdoor workspace to work from home?

Is the area private or communal?

Who will be using the space?
Knowing the answers to questions like this will help form the vision of your outdoor space.
"Develop an idea of the programming and the age group that will be using the space," says Naomi Drucker, Landscape Architect, and Associate at RKLA Studio. "Is this a rental building targeted at young adults or is it a building typically full of families and young kids? Create for what those types of groups might be looking for."
Also, think about how different sizes of groups might use the space.
"We like to create an area where there are individual rooms," says Drucker. "There should be larger group spaces, but there should also be spaces for smaller groups to gather like individuals, couples, or small groups where there is a bit of privacy."
To do this, Drucker often uses deep, comfortable seats that create a lounge feel.

Deep comfortable seats create a lounge feel as part of a modern outdoor terrace design. | Image courtesy of RKLA Studio
She then supplements the terrace area design with raised planters.
"This gives everything a green backdrop," explains Drucker. "It makes the site feel more lush and inviting."
In terms of the types of plants to use in the planters, there are two key considerations.
Aesthetics & Ability to Thrive
Your roof terrace landscape design can include more lush and colorful vegetation. However, this typically requires more maintenance. Or you can select a more evergreen plant, doesn't require as much attention, but might not be as vibrant.
The plants must also be able to survive your rooftop, deck, balcony, terrace, etc. The height, wind, sun exposure, limited soil options. There's a whole micro-climate to take into account.
This is where experience is a valuable resource.
"We've kind of developed our own reservoir of plants that we know can survive those elements," explains Drucker. "We experiment sometimes, but we typically like to go back to plants we know can survive in certain conditions."
According to Drucker, two types of plants that can thrive in these installations but also have a good appeal as a backdrop would be the Heritage River Birch and Mugo Pines.
Other Terrace Roof Design Features
The climate of the terrace should also be managed for the users of the space. This is what makes shade spaces a key feature of the terrace roof design.
"Rooftops tend to get very hot," says Drucker. "People will not use it during the day if there is no shade structure or umbrellas.
In addition to making the environment more comfortable, shade structures are another way to create individual spaces that feel separated.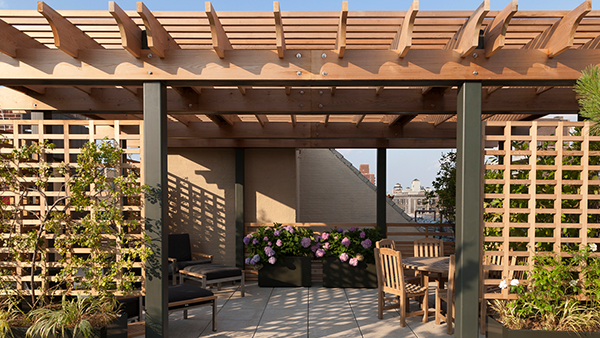 Pergolas can provide shade and separate spaces on a terrace. | Image courtesy of RKLA Studio
To create shade, it often comes down to a choice of umbrellas or pergolas.
Umbrellas, although a cheaper and more flexible option comes with the need for added monitoring. Any time there are high winds or a storm, someone with the building will need to be responsible for making sure the umbrellas are closed or taken down. This might also be a daily requirement.
Pergolas are good for creating shade for a large group of people or a larger area, but typically require working with a structural engineer to make sure the pergola can be incorporated into a roof or other area of the building.
More importantly, the overall condition, structure, and load capacity of your roof will need to be checked before implementing any terrace design ideas.
"Always check with structural engineers, architects, experienced craftspeople, code officials, and others to make sure your outdoor terrace is code compliant, functional, well designed and beautiful," says Chris Nolan, COO of General Woodcraft, Inc.
Selecting the Perfect Pieces
Picking the right pieces means matching it with the vision for the space.
For terrace lounge designs, Drucker likes to go with pieces with cushions that are deep and comfortable.
For a dining area, she looks at heavy-duty furniture as these items will need to stand up to the heavy use of communal spaces.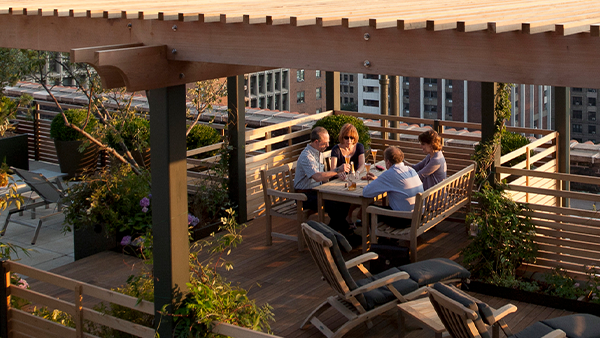 Heavy duty site furnishings hold up better in areas of heavy use. | Image courtesy of RKLA Studio
But don't lock yourself in to a design that can't be re-imagined.
"We always look for pieces that make for more flexible areas," says Drucker. "Pieces that are heavy enough that we're not worried about them blowing off the roof, but not too heavy where people can't move them around if they want."
Ultimately, it comes down to what is practical, but will also meet the needs of the user.
"I've seen it done where the tables are anchored down but the chairs are flexible," says Drucker. "I think today a lot of people like the flexibility of combining 4 tops into an 8 top and being able to use the space as it fits their needs of the day."
Having a variation of furniture types and seating options is another way to make the space more flexible.
"Add different options for the people to use the space, giving as many options as possible," says Drucker."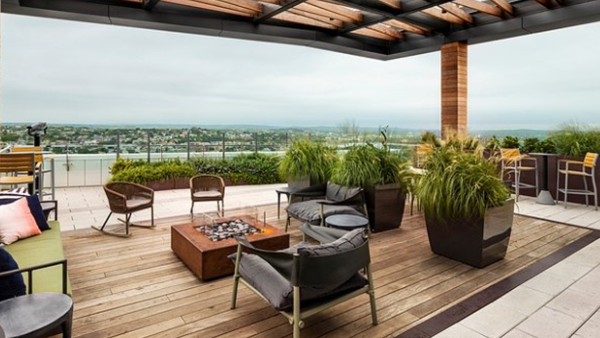 Make your terrace space more flexible with a range of seating options | Image courtesy of General Woodcraft, Inc.
"Built-in planters, built-in seating, privacy screening, and other items all contribute to help transform an outdoor area into an actual living space," adds Nolan.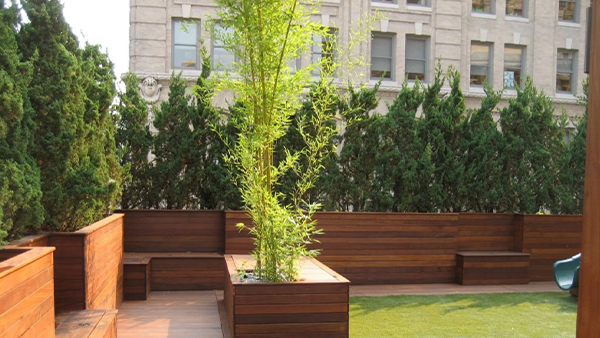 Built-in seating, planters and screening are some of the ways to transform your terrace into a living space. |
Image courtesy of General Woodcraft, Inc.
But this will need to be balanced with the size of the space.
"You really want to make sure the furniture fits the space," says Drucker. "Keep it so it doesn't look too busy. Sometimes the products need to be narrowed down."
Materials Matter
Because of their exposure to the elements, high-quality outdoor furniture needs to be sought out. Which comes down to the materials used in site furnishings. And primarily how they keep from rusting.
Powder-coated steel does well in this fight. It also provides smooth and appealing color options as a finish.
Wood offers a way to have natural-looking materials in your space. And certain wood types like ipe are used in outdoor installations because of their natural resistance to mold, rot, and mildew that can be caused by exposure to water.
This material will fade from its original color to a silver-grey over time. Sanding and a coat of oil can restore its look. But it is a maintenance to be aware of.
Recycled plastic is a third material option worth considering. It has a design that is more closely resembling the natural look of wood. But the performance properties that make it almost maintenance-free are what make this a desirable choice. This material is impervious to rot, mold, mildew, and will not fade, crack, or splinter.
It also has a lower price point than other materials.
Selecting products with materials that can hold up to all environmental conditions have the added benefit of being able to stay in place. This means not having to purchase coverings or figure out a storage solution.
A Natural Indoor/Outdoor Transition
One thing to keep in mind with your terrace design is the connection between the indoor and outdoor spaces.
"Note what you can see from the inside and make sure it melds with what is happening on the outside," explains Drucker. "We always try to get a materials board of what is being used in adjacent indoor spaces and create a materials board that melds with that."
Drucker notes other ways of blending interior and exterior spaces.
Things like having the same countertops in the kitchen and outdoor dining area can link the two spaces.
Using an outdoor stone that can be brought inside.
Similar cushions on the furniture.
Incorporating custom powder coat colors to match the interior color pallet.
Bringing the outdoors inside.
"We've actually used outdoor furniture, inside on one project that was able to match and bring those spaces together," says Drucker.
Terrace Trends
Great outdoor spaces always seem to be in style. But amid the global pandemic and new legislation, the need for these spaces is increasing.
"I think it's definitely something people are looking for now, especially with COVID-19 and everything that has happened this year," says Drucker. "I think people are very interested in outdoor spaces and they've been getting more use this year than ever before."
It may also be an underutilized space to take advantage of.
"If you're already paying for unused outdoor space, such as a rooftop area, why not create something functional and beautiful that adds enjoyment and value to your property?" asks Nolan.
Ready to create a stylish and functional terrace, deck, or patio space that lasts for years? Get started by browsing the durable, beautiful, and affordable Thomas Steele products perfect for actualizing your terrace ideas.
| | | |
| --- | --- | --- |
| Courtyard Tables | Cafe Tables | Individual Seats |
| Terrace Chairs | Planters | Benches |